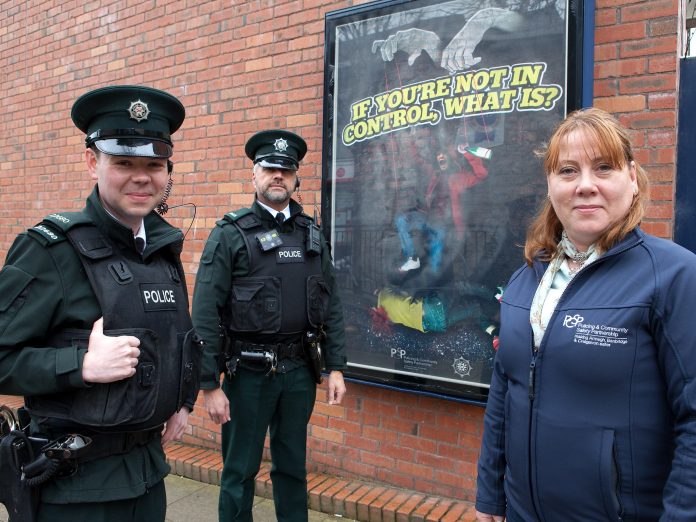 Armagh, Banbridge and Craigavon Policing and Community Safety Partnership (PCSP), and the PSNI are working together on a campaign to help reduce incidents of alcohol-related violent crime within the Borough.
In recent times, there has been an increase in these types of crime, especially around the town centres during the evening and night-time economy. This hard hitting campaign is being displayed on billboards and bus shelters throughout the Borough and local licensed premises will have them displayed on posters and beer mats. This is to emphasise the issue to people consuming alcohol that they should think about their actions while out as it could lead to something more serious, such as violent crime.
Chief Inspector Barney O'Connor, PSNI explains, "Violent crime covers a broad range of offences from minor assaults, through to the more serious grievous bodily harm, however what is clear is that each and every assault has the potential to cause serious harm or in the worst cases, have fatal consequences – as shown through our "one punch" campaign. What is also evident from our statistical analysis is that alcohol is a motivating factor in a large number of violent crimes.
"If you are a victim of violent crime or are a witness to an incident of this nature, please report this to the PSNI on 101 or 999 in an emergency or via Crimestoppers on 0800 555 111."
Councillor Julie Flaherty, Chair of the PCSP says, "When you are out socialising, ensure you are in control of your senses and actions. Do not get involved in an incident that will end with you either being arrested or someone, including yourself, getting seriously hurt. I welcome the fact that these incidents are decreasing but the consequences of these have serious and devastating impacts on victims and their families. I would encourage people to report this crime to the police or support anyone who have been a victim to report it."