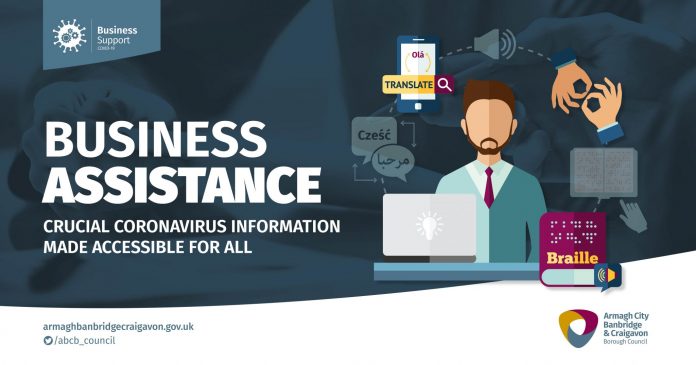 Armagh City, Banbridge and Craigavon Borough Council is working in conjunction with the PSNI to try to reach members of our community that may experience language barriers in receiving important Covid-19 information.
As employers in our borough, we would like to share information with you for redistribution to any relevant employees in your workforce. This guidance will be particularly helpful for businesses who employ staff who do not speak English as their first language.
Our website has an Accessible Information page containing translated Covid-19 information from the Public Health Agency (PHA). Having access to this information will ensure that everyone within our community has access to important messages at this vital time for our society. The link can be accessed here: www.armaghbanbridgecraigavon.gov.uk/coronavirus/#accessibleinformation.
Information in accessible formats is also available for members of the blind and deaf communities.
There are two important documents that have been translated into 10 languages. The first is a poster for GPs and pharmacies advising those suffering from coronavirus symptoms not to enter the building but to contact their GP or pharmacy via telephone.
The second poster is entitled, 'Coronavirus – Isolate Your Household' and features the most up-to-date information on coronavirus symptoms, self-isolation and advice on protecting the vulnerable.
If you need information in a language that is not yet available, you can use the Browsealoud facility on the PHA website. This option can translate and/or read aloud over 90 other languages.
Can we also ask that you communicate to all employees the importance of #stayathome #keepdistance #washhands.