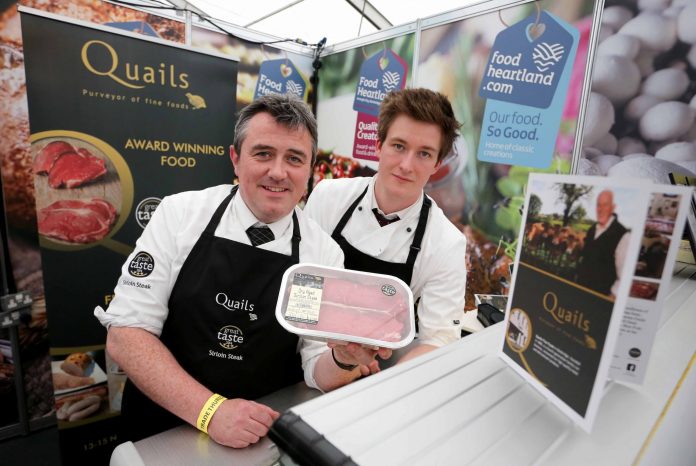 31 local products awarded Great Taste stars in the world's most coveted blind-tasted food competition.
Following months of judging, 37 Great Taste stars were awarded to 31 products from 16 producers in Armagh City, Banbridge and Craigavon borough, the area known as the Food Heartland of Northern Ireland.
Quails Fine Foods and Yellow Door Portadown were awarded an incredible seven stars each. Burren Balsamics and White's Oats also impressed the judges, scooping five and four stars respectively.
Lord Mayor of Armagh, Banbridge and Craigavon Gareth Wilson congratulated the winners, "Well done to all the Great Taste award winners! Producers in this area picked up even more Great Taste awards this year, which is great news for the borough, and shows how deserving we are to be known as the Food Heartland of Northern Ireland."
Great Taste, organised by the Guild of Fine Food, is the acknowledged benchmark for fine food and drink. It has been described as the 'Oscars' of the food world and the 'epicurean equivalent of the Booker prize'.
Great Taste Judging
In 2017 over 500 judges, including specially trained food writers inputting judges' comments, came together at 62 judging days from March through to early July. The judges, from all corners of the food world, blind-taste in teams of 3 or 4 ensuring a balance of expertise, age and gender.
Winning is important to the producers as it differentiates their products from the norm. This means customers have a guarantee that products have a reliable seal of approval based on great taste and not marketing.
The 2017 winners are all genuine food people who care about the quality of food and drink they produce. Those producers entered 12,366 products with only 165 foods achieving the highest and most coveted rating, three stars. 1,011 foods were awarded 2 stars and 3,171 were awarded a 1 star. That means only 35% of entries were accredited, demonstrating how tough the competition is.
Find out more about the Food Heartland here: https://www.armaghbanbridgecraigavon.gov.uk/business/food-heartland/.
2 Star Winners
Quails Fine Foods (2 products awarded)
Burren Balsamics
Greenmount Farm Shop
Nourish Foods
Yellow Door Deli
1 Star Winners
Yellow Door Deli (5 products awarded)
White's Oats (4 products awarded)
Burren Balsamics (3 products awarded)
Quails Fine Foods (3 products awarded)
Brownlee Preserves
Cobden & Brown
Digby's Bar & Restaurant
Holmes Bakery
Irwin's Bakery
Kestrel Foods (Forest Feast)
L'Artisan Foods
Lindens Bakery
The Saucy Minx Co.
William Sprott