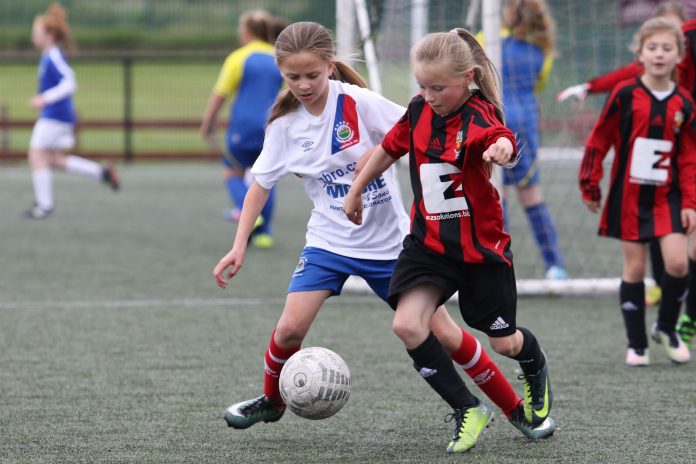 Saturday was a great day for girls' soccer in Lurgan Arena, as eight under-11 teams took part in a one day blitz tournament and four under-13 teams competed in their tournament finals.
Ladies from all over the borough and further afield arrived in Lurgan to play in the final round of the contest which had over 170 participants throughout the 10-week programme. Mid Ulster Ladies won both the under-13s league and the under-13s cup. Banbridge Rangers won the under-13s shield and Linfield fought off competition to win the under-11s blitz.
Council hosted the programme in partnership with Sport NI, the Irish Foundation and McDonalds Games Development Centre.
Presenting the awards, Lord Mayor, Alderman Gareth Wilson said,
"Well done to all the ladies who made it this far, the competition was fierce, so well done to all the teams who made it to the finals.
"It is so important that girls get the opportunity to enjoy, participate and compete in sports at this age, so that they can develop a love for physical activity and keep it up in their teenage years and into adulthood.
"Developing soccer skills and working in a team at this age helps girls become confident and competent women, equipping them with the skills to become leaders in the future."
League Committee
The council is forming a league committee to develop and sustain the programme over the next number of years. If anyone would like more information or interested in joining the league committee contact Sports Development on 028 3831 1687.
UEFA Women's U19 Championship
The girls' soccer blitz was held ahead of the UEFA Women's U19 Championship games in August, where five of the twelve group stages matches will be played in the borough (Mourneview Park, Lurgan and Shamrock Park, Portadown). Aspiring young footballers can also look forward to the Women's Euros this summer.