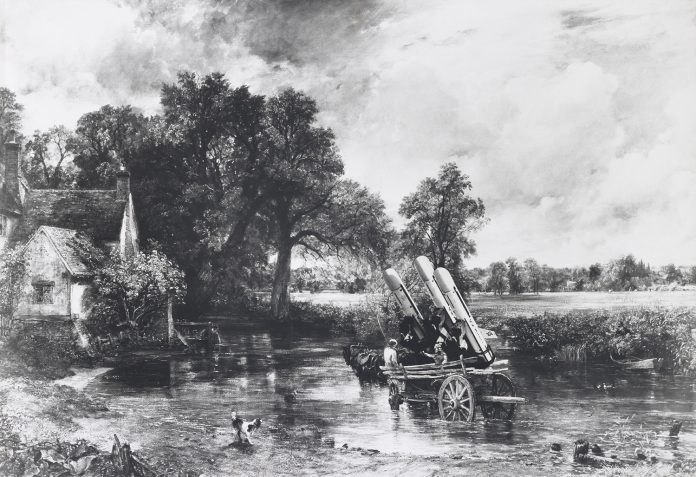 The F.E. McWilliam Gallery and Armagh City, Banbridge and Craigavon Borough Council are delighted to present Crossing Lines, a collaborative exhibition with cross-border partner, Highlanes Gallery, Drogheda.
Opening at the Banbridge arts venue on Saturday 24 November, the exhibition runs concurrently in both galleries and explores ways in which artists have expressed ideas of dissent, dissonance and difference through their work.
During the early 1970s, F.E. McWilliam created his Women of Belfast and Banner Series in response to both the conflict in Northern Ireland and the wider climate of protest and dissent. In the current global climate, conflicting ideologies and increasing political and social turmoil are provoking public protest and campaigning on issues including race, gender, sexuality, class, religion, climate change and political beliefs and allegiances.
Crossing Lines features work by over 45 artists including Duncan Campbell, Stuart Brisley, Susan Philipsz, Ross Sinclair, Rita Duffy, Alice Maher, Maud Sulter, Peter Kennard, Victor Sloan and Joy Gerrard. The diverse range of art in the exhibition considers individual and collective expressions of difference and highlights the important role that art and artists have in challenging traditional thinking, provoking reflection and fostering new ideas that often defy the norm.
The exhibition presents an assorted range of mediums from painting, print and photography to sculpture, video, installation, sound art and performance and is drawn from the Arts Council Collection London, the former Arts Council of Northern Ireland collection gifted to the National Museums Northern Ireland in 2012 and various artists' studios.
A new work, Breathefreedom by internationally acclaimed performance artist Nigel Rolfe, was presented at both Highlanes and the F.E. McWilliam Gallery to mark the opening of the exhibition.
The FE McWilliam Gallery & Studio and Highlanes Gallery were realised as a cross-border arts partnership over a decade ago to provide a greater cultural resource for the border region through a special East Border Region EU INTERREG IIIA Partnership.
The project enabled the creation of the FE McWilliam Gallery & Studio, dedicated to the memory of Frederick Edward McWilliam, one of Ireland's most influential and successful artists. In Drogheda, Co. Louth, the project facilitated the restoration of a Franciscan Friary, namely Highlanes Gallery to world-class exhibition standard, and to house the prestigious Drogheda Municipal Art Collection.
Both galleries provide a major cultural and tourism resource for the border region, developed to 'British Museum Standard B' with the capacity to house major exhibitions. This project has at its heart a serious effort to increase cross-community and cross border co-operation in the arts and culture.
Crossing Lines continues at the FE McWilliam Gallery and Studio until Saturday 26 January 2019.