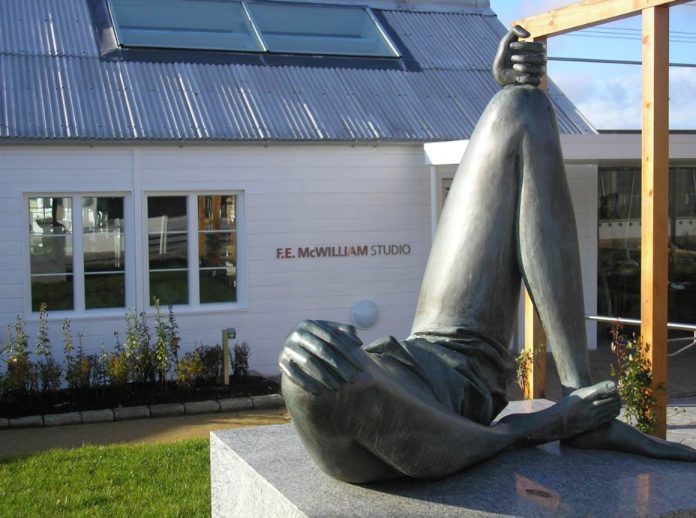 The fabulous FE McWilliam Gallery and Studio, Banbridge has again shown itself to be a shining example of tourism excellence as it has been awarded a prestigious 4 Star Visitor Attraction Rating by Tourism Northern Ireland (TNI) for the second consecutive year.
In their assessment TNI complemented the quality of the exhibitions, the Sculpture Garden, Quails Café, the Craft Shop and the knowledge and approachability of the Gallery Guides who provide information on F.E. McWilliam and the temporary exhibitions on show.
Speaking of the award Deputy Lord Mayor of Armagh Banbridge and Craigavon, Councillor Paul Greenfield congratulated all the Council staff involved in running and maintaining the Gallery. 'I am delighted that the F.E. McWilliam Gallery and Studio has been recognised as a 4 Star Visitor Attraction for the second year in a row. The Gallery offers a unique visitor experience which caters to both locals and tourists and we are delighted that the quality of the facilities and the excellent customer service have been recognised by Tourism Northern Ireland'.
Tourism NI is committed to developing quality experiences for visitors. The Quality Grading Scheme for Visitor Experiences offers tourism operators a chance to be awarded with a star rating to indicate the level of quality a visitor can experience when visiting an attraction or activity.
The star award is an independent mark of quality with organisations and businesses displaying a Tourism NI quality star rating having been officially assessed by Tourism NI. To achieve a star rating, tourism operators must undergo an incognito assessment from an experienced Quality Assessor. Following the visit, verbal feedback will be offered to the owner, manager or appropriate staff member and a full report and score sheet will be provided in writing where the star award will be advised.
Opened in 2008, the Gallery celebrates the life and work of Banbridge born sculptor, F.E. McWilliam, who found international fame as an artist in London. The Gallery attracts over 43,000 visitors annually and holds four temporary exhibitions per year, which prove popular with both locals and visitors to the area.
Armagh City Youth Hostel has also maintained its 4 star accommodation grading and local business Mount Ida Pottery, whose ceramics are stocked by the Gallery Craft Shop, achieved the highest grading of 5 Stars.