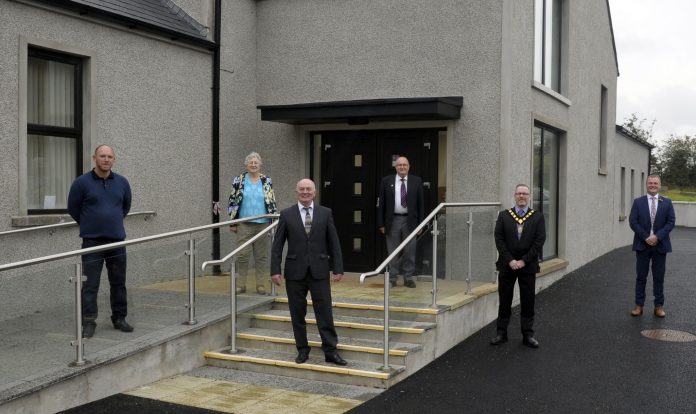 A newly refurbished and modernised Community Hub in Rathfriland has officially opened its doors – thanks to an investment of over £208,000 from Local Action Group, SOAR ABC.
The former St John's Church of Ireland Church Hall underwent a massive transformation into a multi-purpose and vibrant Community Hub, now capable of delivering a wide range of services and activities for the Rathfriland community and surrounding areas.
At a total cost of nearly £280,000, the project saw extensive renovations to the main activity hall, kitchen and toilet facilities as well as the building's entrance and car park. The eagerly anticipated project brings a breath of fresh air to the building, helping it deliver a diverse range of multi-generational activities such as health and wellbeing programmes and IT based initiatives, as well as providing ample space to accommodate a large number of community groups and organisations.
Enabling people of ages to come together to meet, socialise and learn, the new Community Hub will help strengthen community bonds as well as help combat social isolation.
Lord Mayor of Armagh City, Banbridge and Craigavon, Councillor Kevin Savage commented:
"It is great to see these fantastic renovation works at Rathfriland's Community Hub now complete. After months of hard work, it is clear to see this centre will be a real asset to the community as it will not only help meet the needs of local residents but it will also provide a safe and welcoming space for all!"
Securing nearly 75% of the total project costs from SOAR ABC's Rural Basic Services Scheme, the project organisers – Greater Rathfriland Community Development Forum – are committed to developing and enhancing the centre even further. The group have exciting plans to deliver a new bespoke media room, sensory room and training suite as well as one new part-time job.
Chair of SOAR ABC, Councillor Kyle savage commented:
"The refurbishment of the hall and works to the existing car park at St John's Hall have provided a great recreational facility in a rural area, which will act as a focus for both physical and mental wellbeing. It is great to see the works are now complete on site after many months of planning."
Appointed in Armagh City, Banbridge and Craigavon Borough Council area to implement the LEADER element of the NI Rural Development Porgramme 2014-2020, SOAR ABC has awarded over £1.3 million grants to some 14 projects through its Rural Basic Services Scheme.
Find out more about SOAR ABC here: www.soarni.org.