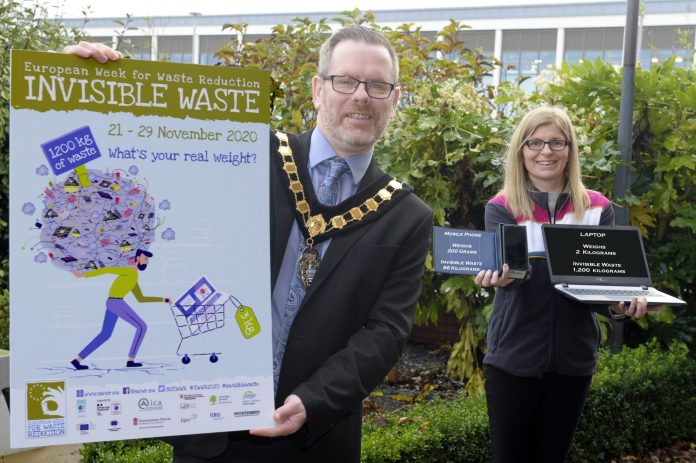 Armagh City, Banbridge and Craigavon Borough Council will bring the theme of invisible waste into sharp focus during 21-29 November as it gets behind the 12th annual European Week for Waste Reduction campaign.
Every year, European Week for Waste Reduction focuses on a different aspect of waste prevention in order to draw attention to high impact areas related to our unsustainable consumption habits as a society.
This year's campaign shines a spotlight on the issue of invisible waste i.e. the waste generated during the manufacturing process which is not visible to consumers. For example, a new smartphone weighs less than 200gms but produces 86kgs of waste and a new laptop weighs about 2kg but produces 1,200kg of waste.
Adopting the slogan 'What's your real weight?' the campaign challenges us all to become better informed about the huge amount of waste that we all unconsciously generate when we buy new products.
Lord Mayor Councillor Kevin Savage welcomed the opportunity to lend his support to the campaign, saying:
"As consumers, we need to become more conscious of what we need, what we buy, and how we value the things that fill our lives.
Increasing the usable life of everyday products by repairing, sharing, reselling, and reducing helps reduce the need for new goods and therefore the amount of invisible waste we generate.
The majority of invisible waste produced through the manufacture of new products cannot be recycled and ends up in landfill.
It's time to put an end to our throw-away culture and work towards the common goal of saving our planet's limited resources by practicing more sustainable consumption. Small actions can make a big difference."
There's lots of simple things we all can do to reduce invisible waste.
Make sure all products such as mobile phones, laptops, games consoles and televisions are optimally utilised before upgrading to a newer model.
Choose more sustainable products when shopping. Buy products that will last longer, can be used multiple times, and are intended to be in use for as long as possible before being remanufactured or recycled.
For technologies and gadgets, use them longer, repair and donate them, and ensure you find a reliable recycler at the end of their life.
Recommend and buy from companies that provide replacement parts, offer take-back services or use recycled materials in production.
Buy better quality clothes that last longer and can be mended. Stay away from fast fashion that mass produces at the expense of the environment.
Don't dump, donate. Find a new home for things you no longer need or want such as furniture, clothes, white goods, mobile phones etc.
Consider buying second-hand goods in a reasonable condition and extend the life of pre-loved products.
Never buy disposable products. Switch to reusable alternatives.
To find out more about the campaign and how to get involved in, visit www.ewwr.eu
Follow us on our social media channels during European Week for Waste Reduction to discover more ways of reducing invisible waste.