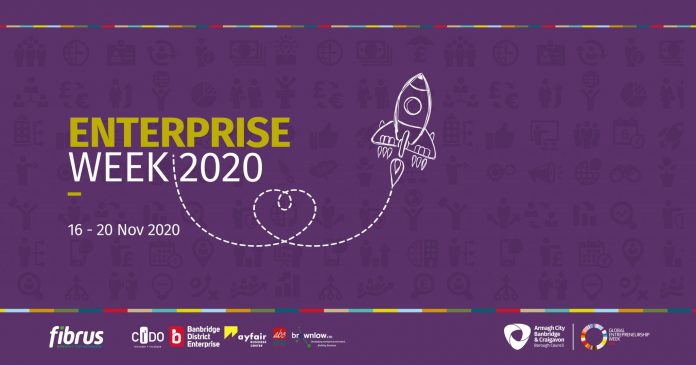 Two first-class performers who have graced some of the world's most famous sporting arenas will share their winning stories to bring Armagh City, Banbridge and Craigavon Borough Council's Enterprise Week to a close.
'Wellbeing and Winning' on Friday 20 November at 12.30pm is the final webinar in a series of free online inspirational and enterprising events in keeping with the current Coronavirus restrictions to mark Global Entrepreneurship Week, which is taking place virtually between Monday 16 and Friday 20 November.
Gerry Hussey is a performance psychologist who has coached elite athletes for Olympic Games, Heineken Cups, All-Ireland Finals, World Cups and Golf Majors. Joining Gerry will be Irish International Hockey player Lizzie Colvin who was part of the 2018 World Cup Final squad.
Lord Mayor of Armagh City, Banbridge and Craigavon, Councillor Kevin Savage, said:
"We are delighted to virtually welcome Gerry Hussey and Lizzie Colvin to take part in our final Enterprise Week 2020 webinar. Gerry has been invited to share how people can manage their physical and emotional wellbeing based on his wealth of experience leading others including elite athletes from all over the world. Being such a difficult year for many businesses, we hope it provides a healthy reminder for entrepreneurs to establish a work-life balance and look after themselves in order to thrive personally and professionally during this unprecedented time.
"A native to Armagh, we as a council are so proud of what Lizzie achieved getting to the Hockey World Cup Final in 2018. As well as a sporting ambassador for the borough, Lizzie is also an employment law solicitor who is very familiar with the challenges that businesses and employees are facing during the Covid-19 crisis. Her experience and insight will certainly be an inspiration to local business owners and entrepreneurs."
Ahead of 'Wellbeing and Winning', on Wednesday 18 November from 12.30pm-1.30pm, Enterprise Week presents 'Vision and Traction: Building an Award-Winning Business'.
This motivating webinar will feature Feargal McCormack, founder and Managing Director of PKF-FPM Accountants and Dave Linton, founder of Madlug, a social enterprise that gifts bags to children in care when customers purchase from their range of accessories.
Both speakers will present testimonies on their business journey, from initial start-up to successfully established enterprise and offer advice on how hard work, vision, investment in staff and belief in a brand can lead to great rewards – which is sure to inspire a new generation of entrepreneurs.
Organised by Armagh City, Banbridge and Craigavon Borough Council and sponsored by Fibrus Broadband, Enterprise Week is being delivered by local enterprise agencies including CIDO Ltd, Banbridge District Enterprise Ltd, Mayfair Business Centre, Armagh Business Centre and Brownlow Ltd.
Tickets for 'Wellbeing and Winning', which takes place on Friday 20 November at 12.30pm can be booked for free at abcwinning.eventbrite.co.uk
Tickets for 'Vision & Traction', which takes place on Wednesday 18 November at 12.30pm, can be booked for free at abctraction.eventbrite.co.uk
For details on all the events featured in this year's Enterprise Week visit www.armaghbanbridgecraigavon.gov.uk/business/enterpriseweek. The Global Entrepreneurship Week movement can be followed on Facebook and Twitter #GEW2020 and #ABCEW20.