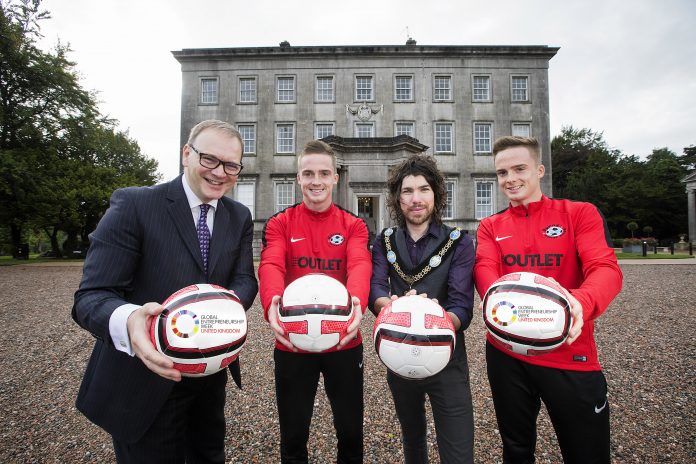 Local businesses will be inspired to innovate, build networks and access support to help them grow and expand during Enterprise Week, with a packed programme of free events taking place across the Armagh, Banbridge and Craigavon Borough from 14-20 November.
From inspirational conferences, funding workshops, digital seminars and mentoring sessions, Armagh City, Banbridge and Craigavon Borough Council has designed events to cultivate and strengthen the area's entrepreneurial ecosystem in an increasingly challenging environment.
The council is partnering with key organisations such as The Prince's Trust, Catalyst Inc, Youth Bank international, InterTradeIreland, Social Enterprise NI, Southern Regional College, Co-working community organisation Wabisabi, We are Digital, business development initiative Plato EBR Network and local Business Centres to deliver exciting and high quality events to ensure that local businesses and residents receive all the necessary support they need to take their businesses to the next level.
Enterprise Week coincides with Global Entrepreneurship Week, the world's largest celebration of enterprise, which aims to inspire, connect and engage with the next generation of entrepreneurs. Across more than 160 countries over 300,000 events will be held to shine the spotlight on this year's themes including women, youth, investors, and scale-ups.
Anyone interested in developing an idea or growing their business will find inspiration from Enterprise Week's range of events, with highlights including:
'A Night of Ambition' with Youth Bank International will spark innovation, creativity and entrepreneurship in the next generation of entrepreneurs as young people from local schools, colleges and youth projects take part in the much acclaimed Teenage Market, giving young people a platform to showcase their creative talents.
'Decade of the Female Entrepreneur' highlights and celebrates women entrepreneurs. This event, in partnership with The Prince's Trust, features keynote speakers from academia, a motivational speaker from the local area and a panel made up of successful local female entrepreneurs from the Borough who have availed of support to start a business through the Prince's Trust in Northern Ireland.
'Using Digital Innovation in Local Business', led by We Are Digital, will provide businesses with an opportunity to explore innovative ways of working using digital platforms that will grow and develop commercial opportunities, new markets and customers.
'Finance for Start Ups' by Catalyst Inc will give entrepreneurs and 'wantrepreneurs' in the startup and growth phase the chance to explore options and find out more about business finance.
The Enterprise Centres from across the Borough will provide business support advice to encourage entrepreneurship and a flagship 'Meet the Funders' workshop. Businesses will also be encouraged to develop existing partnerships.
The Plato EBR Network will host a 'Supply Chain Development' event for the local Engineering sector and Social Enterprise NI will hold a workshop aimed at creating an awareness of the social enterprise business model.
Lord Mayor of Armagh City, Banbridge and Craigavon, Councillor Garath Keating commented:
"Enterprise Week is a week-long programme of opportunities for local businesses to get connected and avail of advice and a range of insights into what it takes to create a business, make it grow, as well as how to face the range of challenges being a business owner presents. From the next generation of young entrepreneurs, to the latest digital technology to women leading the way in the borough – this is a week not to be missed!"
Looking forward to Enterprise Week, Chief Executive of Armagh City, Banbridge and Craigavon Borough Council, Roger Wilson said:
"Our Borough is a vibrant hub of entrepreneurialism. From start-ups to large global businesses, there is a real sense of ambition and drive that lights up this area. This is why it is essential that Armagh City, Banbridge and Craigavon Borough Council links in with major events such as Global Entrepreneurship Week and partners with organisations such as Prince's Trust to ensure that we support, deliver and strengthen our local businesses. Enterprise Week is guaranteed to help businesses make connections, provide practical support and, above all, offer attendees the opportunity to be inspired by other local entrepreneurs who are driving their business forward and helping to put the Borough on the map locally, nationally and internationally."
For details on all the events featured at Enterprise Week and to reserve your place visit www.armaghbanbridgecraigavon.gov.uk/business/enterprise-week and join in the global conversation on Facebook and Twitter #GEW2016