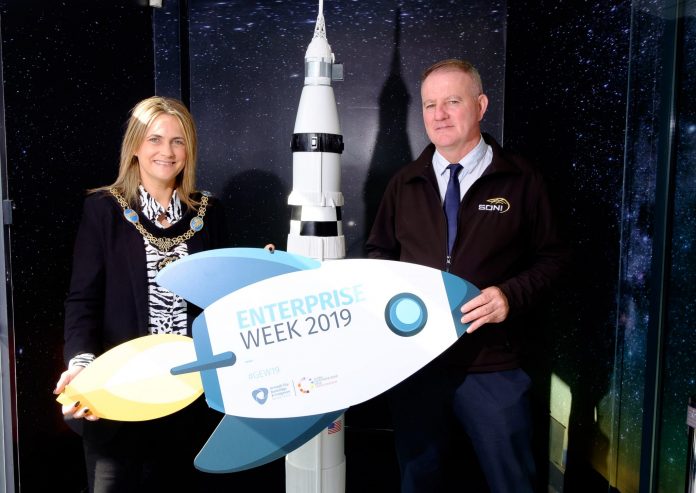 A Packed programme of free business events and networking opportunities will land in Armagh City, Banbridge and Craigavon Borough between 18 and 22 November, providing opportunities for local companies and entrepreneurs to complete their mission to succeed in the world of business.
Spearheaded by Armagh City, Banbridge and Craigavon Borough Council and sponsored by System Operator for Northern Ireland (SONI), the week-long programme will see a range of inspirational and enterprising events take place across the borough, demonstrating the council's commitment to nurturing and developing the local economy.
Events will take place in a range of venues across the borough in November meaning people don't have far to go in order to help take their business to 'new heights'.
With drop-in clinics, workshops, information seminars and networking events offering support and guidance on a range of business matters such as financial advice, branding, driving innovation and promoting women in business, as well as hearing first-hand experiences from industry-respected guest speakers, there is scope for everyone to learn and develop during the week.
Aimed at the whole business sector from budding entrepreneurs to well-established firms, the initiative will also showcase local success stories and give businesses and social enterprises easy access to funders, advisors and support programmes.
Speaking at the launch, Lord Mayor of Armagh City, Banbridge and Craigavon, Councillor Mealla Campbell, commented,
"Enterprise Week has become an important initiative in our events calendar. Our borough has carved itself a reputation as being open for business both locally and globally, which has not only helped sustain but also strengthen the local economy. Initiatives such as Enterprise Week demonstrates that we are committed to encouraging our entrepreneurial culture and fostering our future business leaders.
With an exciting programme of events offering information, guidance and support, it promises to inspire new entrepreneurs and businesses to take the next step in their business journey. I would urge everyone in the business community to sign up and join us at this year's Enterprise Week!"
Coinciding with Global Entrepreneurship Week – which is now in its 12th year – Enterprise Week recognises and commends the innovators and job creators who launch start-ups, which bring new ideas to life. In celebration of this, local enterprise agencies including CIDO Ltd, Banbridge District Enterprise Ltd, Mayfair Business Centre, Armagh Business Centre and Brownlow Ltd will be hosting drop-in accountancy clinics and offering advice and guidance on programmes which help turn business ideas into reality.
Principal sponsor SONI's Agricultural Liaison Officer Fergal Keenan added, "SONI is delighted to support Armagh City, Banbridge and Craigavon Borough Council's Enterprise Week 2019. SONI operates and manages Northern Ireland's electricity transmission grid ensuring that businesses throughout Northern Ireland receive a safe and secure supply of electricity. Enterprise Week provides us with an opportunity to engage with members of the local business community and to update them on our strategic infrastructure projects."
For details on all the events featured in this year's Enterprise Week and to reserve your place visit armaghbanbridgecraigavon.gov.uk/business/enterpriseweek
The Global Entrepreneurship Week debate can be followed on Facebook and Twitter #GEW2019 and #ABCEW19.