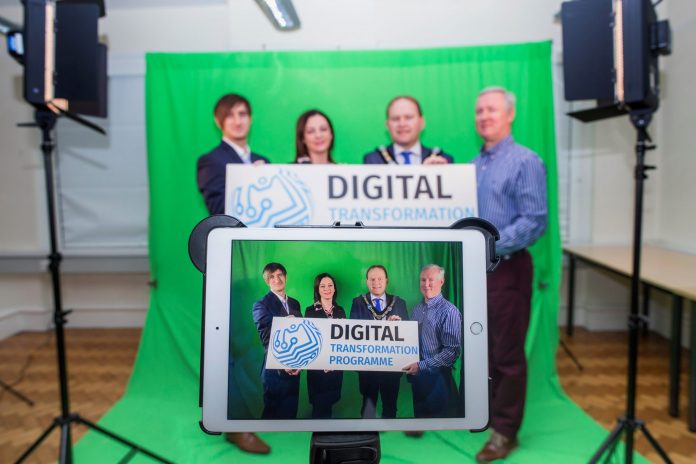 100 local businesses are set to receive digital support through Armagh City, Banbridge and Craigavon Borough Council's recently launched 'Digital Transformation Programme'.
Part funded by Invest Northern Ireland and the European Regional Development Fund under the Investment for Growth & Jobs Northern Ireland (2014-2020) Programme, the newly launched project will provide assistance and mentoring to traditional and digital small medium enterprises (SMEs) over the next three years. With tailored-made support, the programme will equip businesses with the digital skills to manage information, communicate, transact and problem solve, while also enabling them to scale up, drive business growth and as a result help create over 250 jobs by 2020.
Roger Wilson, Chief Executive of Armagh City, Banbridge and Craigavon Borough Council, commented,
"The digital economy is one of the most important drivers of innovation, competitiveness and growth for our economy. We are an ambitious and forward-thinking local authority, keen to stay ahead of the continually innovating and ever adapting digital wave. With huge economic and social benefits on offer for the region, we understand that to reap those benefits we need to equip our business leaders and young people with the right skills and knowledge.
"Developed in partnership with specialists, the Digital Transformation Programme will provide the perfect platform for businesses to share knowledge, develop new skills and establish new connections in order to help them take advantage of opportunities that lie within the digital economy."
Commencing in February 2018, the 16 week transformation programme will be delivered by specialists from 42 Digital and Southern Regional College. It will consist of 12 workshops, four networking events and will cover two main elements, namely digital marketing and digital innovation.
Digital marketing will focus on social media, web development, online advertising, search engine optimisation (SEO), analytics and content creation, which will aim to enhance customer engagement, increase sales and in turn drive job creation. While the digital innovation aspect will focus on mentoring, implementation and use of digital technologies, including the internet of things, cyber security, big data, gamification, virtual reality, augmented reality and 3D modelling, which will help accelerate business growth and job creation.
Ethna McNamee, Invest Northern Ireland's Western Regional Manager, commented: "The rapid digital transformation in recent years is having a powerful influence on how we do business. The Digital Transformation Programme is an excellent opportunity for micro and small businesses located in Armagh City, Banbridge and Craigavon Borough to equip themselves with the digital skills that will help grow and develop their business."
Delivery Partner, Daryl Conway from 42 Digital, commented,
"We are delighted to be working in partnership with Armagh City, Banbridge and Craigavon Borough Council, Invest Northern Ireland and Southern Regional College to deliver the Digital Transformation Programme. With an experienced team of digital experts, participating businesses will benefit from interventions, networking, mentoring and workshops, all designed to support council's aim to help businesses grow and ultimately strengthen its digital economy."
To be eligible to apply, your business must, be located in Armagh City, Banbridge and Craigavon Borough; employ fewer than 50 employees; be actively trading and; not currently receiving similar support elsewhere.
With high demand expected and a competitive application process, eligible businesses who are interested in the programme should visit www.digitaltransformationprogramme.com to learn more about the application process.