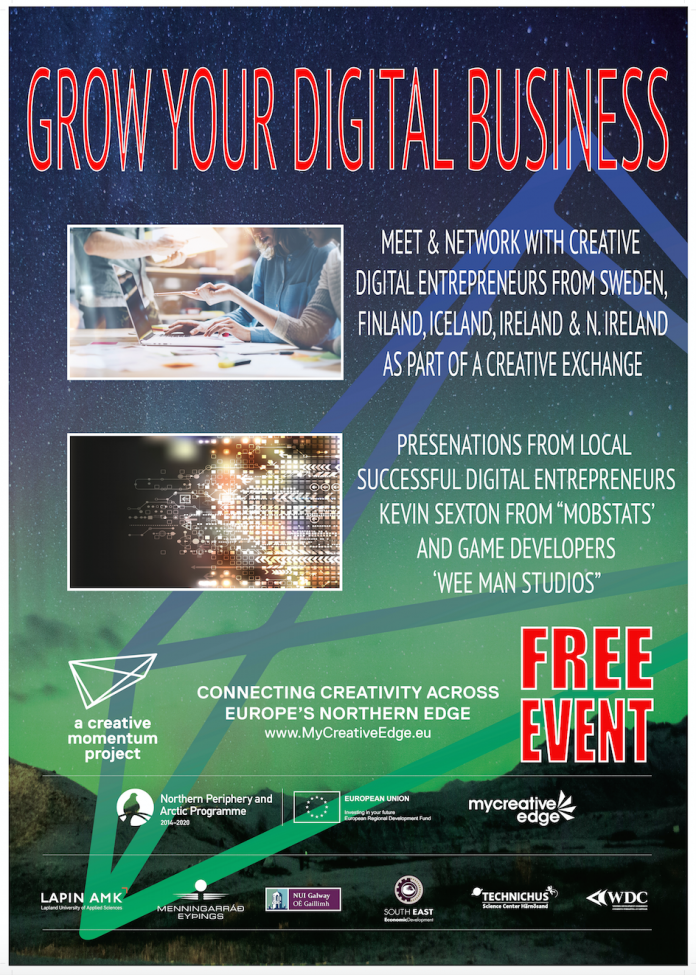 An exclusive event aimed at local digital entrepreneurs will be taking place next week in Armagh complete with international guests and presentations from successful companies.
The 'Grow Your Digital Business' event gives local entrepreneurs the opportunity to network with creative professionals from Iceland, Finland, Sweden and the Republic of Ireland and explore potential transnational future partnerships and collaboration.
In addition, 'Wee Man Studios' and 'Mobstats' – two very successful local businesses – will give presentations offering insight and advice on how to develop your business and maximise online potential.
This event will take place on Wednesday 28th September at 7pm in Armagh Market Place Theatre.
The visiting EU Digital Entrepreneurs are here as part of the EU's Northern Periphery and Arctic (NPA) funded project, 'Creative Momentum'. This opportunity is one of a number of 'Creative Hotspots' being delivered through this project with future events being held in Iceland, Finland and the West of Ireland.
These opportunities are open to creative businesses from the SEED region of Northern Ireland made up of Armagh City, Banbridge and Craigavon Borough Council, Ards and North Down Borough Council and Newry Mourne & Down District Council.
Places for this event are limited so please register by contacting Niall Drew on 028 3831 2485 or email
To find out about upcoming opportunities, sign up for the newsletter and create a profile on www.MyCreativeEdge.eu.