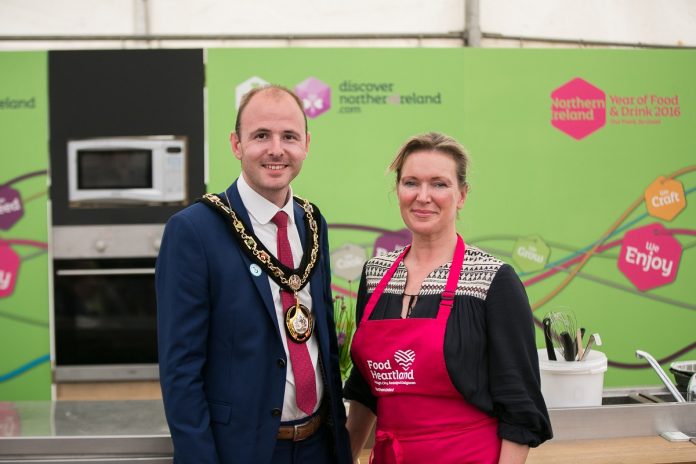 Renowned celebrity chef Rachel Allen worked her culinary magic at Lurgan Show at the weekend when she rustled up a range of delicious dishes and stylishly demonstrated how to cook a variety of tempting treats to hundreds of showgoers.
Organised by Armagh City, Banbridge and Craigavon Borough Council, the appetising event celebrated the Borough's esteemed Food Heartland Status and showcased the area's world-class local produce including Lough Neagh Eels and Bramley Apples.
The event was hosted by award-winning chef and proprietor of the Yellow Door Deli, Simon Dougan, who, alongside skilled members of the Food Heartland Forum, including chefs from The Moody Boar Bistro & Restaurant, The Armagh City Hotel and Uluru Bar and Grill, prepared a wide range of mouth-watering dishes and delightful delicacies!
All the chefs were on hand to dish out some handy hints and tips on home cooking and visitors had the chance to ask any questions they had on how to produce the perfect feast.
There was also gorgeous grub from Abernethy Butter, Wilson's Country Potatoes, Burren Balsamics, Harnett Oils, Long Meadow Cider, Yellow Door Deli, Heavenly Cupcakes and Quail's at the Food Heartland Village.
Attending the event was former Lord Mayor of Armagh, Banbridge and Craigavon, Councillor Darryn Causby, who comments: "We were delighted to welcome Rachel Allen and the magnificent Food Heartland chefs to Lurgan Park. The produce our local area has to offer is second to none and was showcased perfectly in all the chef's flavoursome dishes. The Food Heartland Village was one of the highlights of the show with dozens of local suppliers and producers exhibiting their fabulous fare."
For further information log onto www.discovercraigavon.com or www.facebook.com/discovercraigavon