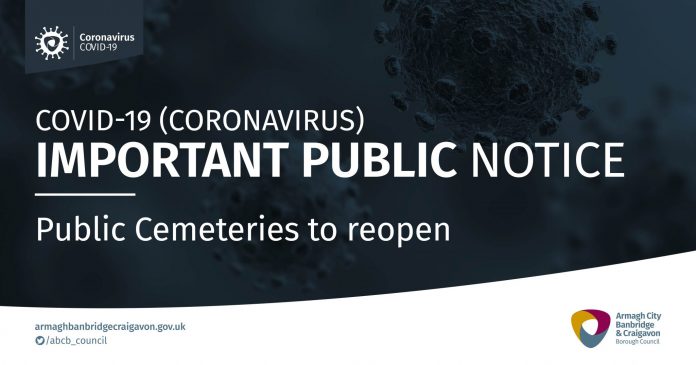 As a council, we welcome today's announcement by the NI Assembly to change the Health Protection (Coronavirus Restrictions) Regulations Northern Ireland Act (2020), regarding public access to cemeteries. We are acutely aware of the deep sensitivities surrounding the closures; therefore, all cemeteries will reopen by approximately 9.00am tomorrow morning (Saturday), with the necessary guidance in place to ensure visitor and staff safety.
In a statement the Lord Mayor of Armagh City, Banbridge and Craigavon, Councillor Mealla Campbell said,
"I welcome the decision from the NI Executive to reopen cemeteries.  This has been a very difficult and emotional time for many people in our community who have lost loved ones. I know this decision will bring some comfort to people who are grieving and have been unable to visit their loved ones place of rest for several weeks. All council owned cemeteries will now be opened in line with public health advice and I encourage people to please maintain safe social distancing during this time."
During this unprecedented time, visitors are asked to:
Follow the Public Health Authority (PHA) guidance on social distancing.
Accommodate funeral services by leaving cemeteries if asked to do so by staff.
Be aware that if cemetery gates are locked, during normal opening times, this is due to funeral preparations.
We apologise for any inconvenience caused.