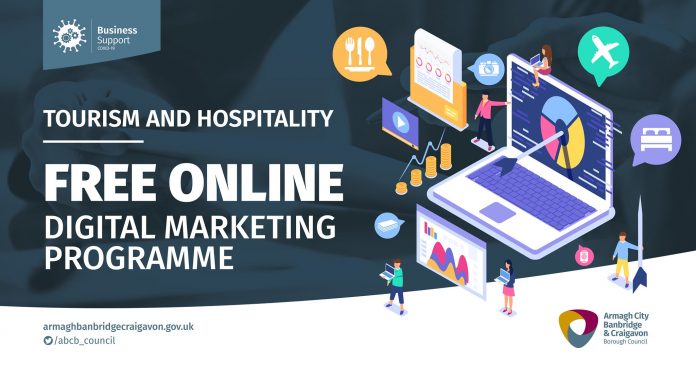 As businesses continue to develop their online presence during the Covid-19 pandemic, the Tourism Team at Armagh City, Banbridge and Craigavon Borough Council are offering another four-week training course to offer support and guidance for the days ahead.
Aimed at the Tourism and Hospitality sector within the ABC area, this course is free and will cover topics including Google Analytics, developing a web presence, using SEO and SEM as well an introduction to blogging.
This customised online digital marketing training will run each Thursday morning throughout the month of June at 10am – 4th, 11th, 18th and 25th.
The courses will last approximately two hours with plenty of opportunity for a question and answer session afterwards. To gain the full benefit of this sector specific training, it is recommended that you complete all four sessions – however you can also register for the courses individually.
All you need to get involved is either access to a laptop, PC, tablet or smartphone. You don't need to have a microphone as you can type your questions which will then be added online. The training will be delivered by Emma Gribben, Digital by Emma, using GotoWebinar.
If you have never used GoToWebinar before please see this link for more information:
https://support.goto.com/webinar/videos
If you would like to take part, please register your interest by emailing . If you have a specific query or ongoing issue that you would like to have addressed during the training or as part of the Q&A session, please let Joanne know.
Places are limited so please register your interest by email to Joanne by 3pm on the following dates: Tuesday 2nd June for week one, Tuesday 9th June for week two, Tuesday 16th June for week three, Tuesday 23th June for week four.