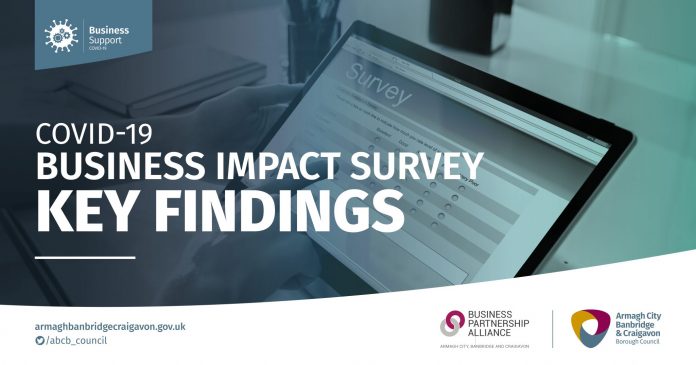 Armagh City, Banbridge and Craigavon Borough Council and the Business Partnership Alliance release key findings from their recent Covid-19 Business Impact Survey.
Almost 300 survey responses, representing nearly 3,000 local jobs.
Local business community willing to adapt and innovate – with over two-thirds of respondents now offering an eCommerce service as well as promoting their business on social media.
High street businesses in the borough pressed for support to attract customers back into shops.
Businesses highlight the need to adopt good and safe practices for their workforce and customers.
Need for additional long-term and sustainable business support package from local and central Government identified.
The key findings – which were presented to ABC Council's Economic Development and Regeneration Committee tonight (Thursday 28 May) – will help form part of the pre-recovery planning to help rebuild and support the resilience of the local economy.
The recent survey saw almost 300 responses from a range of local businesses, self-employed individuals and key business representative bodies – totalling nearly 3,000 local jobs. With the opportunity to share their views on current and emerging issues brought on by Covid-19, survey participants were also encouraged to highlight additional support required to ensure their survival during and after the crisis.
During the survey period, 60% of respondents indicated that they were unable to trade due to Covid-19 restrictions and respondents also revealed that just over 1,500 employees had been furloughed or were likely to be furloughed. From the survey results, it was evident that local businesses saw the importance of investing in online platforms, while retaining an in store offering – demonstrating a high level of flexibility and adaptability. Findings also revealed that over two-thirds of respondents now have an e-commerce offering and are also actively promoting their business on a range of social media channels.
Responding to the Covid-19 Business Impact Survey findings, Lord Mayor of Armagh City, Banbridge and Craigavon, Councillor Mealla Campbell said:
"There's no doubt that the Covid-19 pandemic is one of the most severe health crises we have ever faced, but the unprecedented impact it has had on our local economy cannot be overlooked, which is why this survey was so important.
"The survey results provide a snapshot of the harsh reality of the current economic uncertainty and instability faced by many in our local business community. With extensive and long-lasting challenges around financial robustness, health, safety and wellbeing, and future operating models, local businesses have demonstrated an unwavering resilience and willingness to evolve to meet these challenges head on.
"Nonetheless it is clear from the findings that further business support is necessary to ensure our local economy can rebuild itself and recover in the long term. Along with the Business Partnership Alliance, we are committed to lobbying Government for current and future business support on their behalf as well as reshaping council's own business support offering to address local economic needs".
With the high street among the hardest hit by the Covid-19 pandemic, respondents appealed to the local community to support their local shops, businesses and traders to help secure local jobs, services and the long term viability of the local economy. Referring to the stage when businesses will start to reopen, respondents stressed the importance of maintaining a safe environment and urged all stakeholders to work together on this important step.
Chair of Business Partnership Alliance, Adrian Farrell said:
"We are delighted with the response rate from businesses and this information is a good sounding board on the main issues, concerns and direction of travel required as we move forward. Key themes include shop local, safe environment, sustainability and support. BPA is keen to work with all key stakeholders during this time and in this new environment, we are up for the challenge".
Survey participants also specified a clear need for additional business support from stakeholders including local and central Government to help the local business community mitigate current challenges and enable them to continue trading in a post Covid-19 world.
For further information on the Covid-19 Business Impact Survey please email .