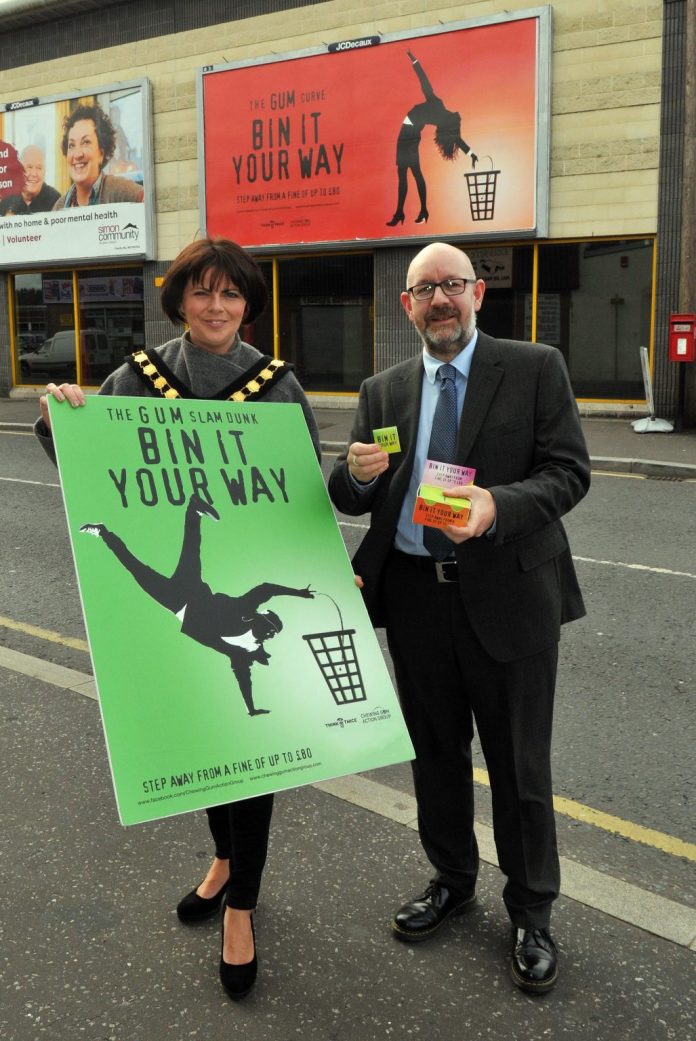 Armagh City, Banbridge and Craigavon Borough Council (ABC Council) is again playing a prominent part in delivering a high profile campaign to help reduce gum litter across the borough.
Since 2014 ABC Council has been the only council in Northern Ireland selected to run the campaign, which has been the driving force behind significant successive reductions of the amount of gum dropped in areas monitored.
The dynamic, brightly coloured advertisements will appear in a range of locations across the borough, including billboards, ad shells, phone kiosks and bus stops. With posters, banners, window stickers, beer mats and gum-raps also produced.
The advertising features dance moves, encouraging people to dispose of gum litter responsibly in a fun and engaging way or face a fine of £80.
Launching this year's campaign Lord Mayor of Armagh City, Banbridge and Craigavon, Councillor Julie Flaherty, commented,
"We are so proud of our borough and we are committed to keeping it a clean, safe and healthy community, which is why we are delighted to lead this campaign again for the fifth year in a row! This initiative helps us raise awareness of chewing gum litter, its proper disposal and to generate debate and discussion on the topic.
"The imagery for this campaign is extremely eye-catching and we hope to see another great reduction in chewing gum litter as a result."
Ian Humphreys, Chief Executive from Keep Northern Ireland Beautiful added,
"We are dedicated to making our region a cleaner and more pleasant place to live and ABC Council with their involvement in this campaign shows their commitment to this very important issue. A campaign with creative imagery such as this will hopefully raise public awareness and have a positive effect on behaviour. We all need to work together to ensure the preservation of our environment."
This campaign has been funded by the Chewing Gum Action Group (CGAG), an organisation chaired by Defra (Department for Environment, Food and Rural Affairs) and by the chewing gum industry to tackle gum litter in the UK.
Find out more
To learn more about the campaign, please visit www.chewinggumactiongroup.org.uk.