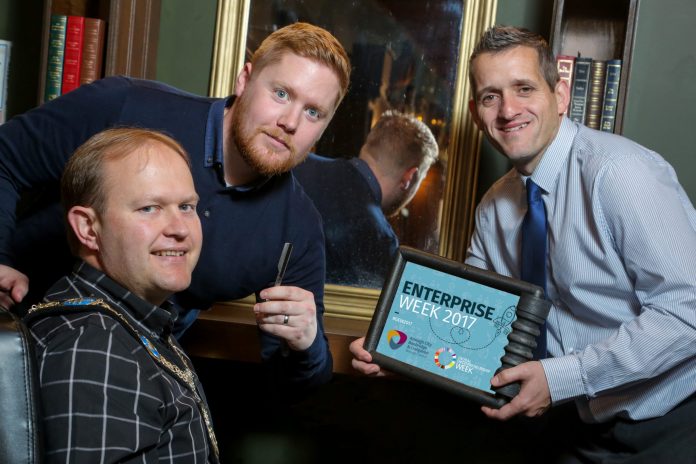 Businesses and entrepreneurs in Armagh, Banbridge and Craigavon are being urged to sign up for a packed programme of events as the Council launches its Enterprise Week (November 13th – 18th).
Under the theme of 'Inspire, Innovate and Invest' the week supports ambitions to create over 7,000 new jobs within the Borough by 2026 and includes free events providing practical advice for both start-ups and established businesses.
The area is already home to over 8,000 businesses and is an increasingly important contributor to Northern Ireland's economy.  The Borough accounts for 11% (£3.7bn) of Northern Ireland's economic output, up from 9.4% in 2013, and is the most economically active area outside of Belfast.   Ulster Bank is the principal sponsor with further support from CIDO Ltd and Banbridge District Enterprise Ltd.
The launch venue was the 'Elk & Clipper', a chain of 1920s-style barbers set up by local entrepreneur Dwaine Smyth, who also co-founded the Meat Cleaver butcher shop in Portadown.
Lord Mayor, Alderman Gareth Wilson, said:"Enterprise Week is about inspiring businesses and budding entrepreneurs to look for new commercial opportunities.  The Borough is already home to some of Northern Ireland's best known manufacturing, agri-food and pharmaceutical companies, but we want to foster an even greater culture of enterprise.
"Forecasts by Ulster University suggest that a favourable economic climate over the next decade could help create 7,500 new jobs in the Borough and boost local GVA to £4.3bn.
"Over 70% of the local economy is driven by the private sector and that's likely to grow.  Enterprise Week is part of a strategic push by the Council to provide a framework which helps business flourish."
High-profile companies based in the area include Almac, Moy Park, Hyster Yale, Interface, Ulster Carpets, Irwin's and Tayto.  There are also over 13,000 people in self-employment.
Dwaine Smyth, co-founder of the Elk & Clipper said: "I first got involved in business in 2011 when I co-founded a butcher's shop with my brother.  I'm now involved with four barber shops with another business partner and Nantuckets, a fish and chip shop – you could say I've caught the entrepreneurial bug!
"Enterprise Week is a great opportunity to bring together the local business community, from multi-national companies to start-ups and business enablers, and take time to refocus on how to build successful businesses."
Partnering with organisations such as Deloitte, FSB, Invest NI, Enterprise NI and YouthBank Banbridge, Enterprise Week events include 'An Entrepreneurs' Journey', 'Ready, Set, Grow' and 'To Innovation and Beyond'.
The aim is to showcase local successes and give businesses easy access to funders, advisors and support programmes.  The events are aimed at new entrepreneurs, start-ups, potential exporters, existing firms seeking growth opportunities and those involved with digi-tech. There will also be a 'Night of Ambition' to foster students' interest in entrepreneurship.
Roger Wilson, CEO, Armagh City, Banbridge and Craigavon Borough Council, added:
"The large number of multi-nationals based in the Borough is proof that this is a great place to do business with excellent transport links, a strategic location on the Belfast-Dublin corridor and a skilled talent pool.
"We want, however, to do more, to encourage a new generation of entrepreneurs and create an environment where enterprise permeates everything we do.  Enterprise Week is a chance for businesses to network and identify new partners and customers."
The Council is also planning raise its profile with potential inward investors through its links with Global Entrepreneurship Week, now into its tenth year.  With a workforce totalling c.125,000, strong infrastructure and a unique mix of world-class industrial and agri-food firms, the Borough offers a diverse proposition.
For details on all the events featured at Enterprise Week and to reserve your place visit Enterprise Week. The Global Entrepreneurship Week debate can be followed on Facebook and Twitter #GEW2017 and #ABCEW17.