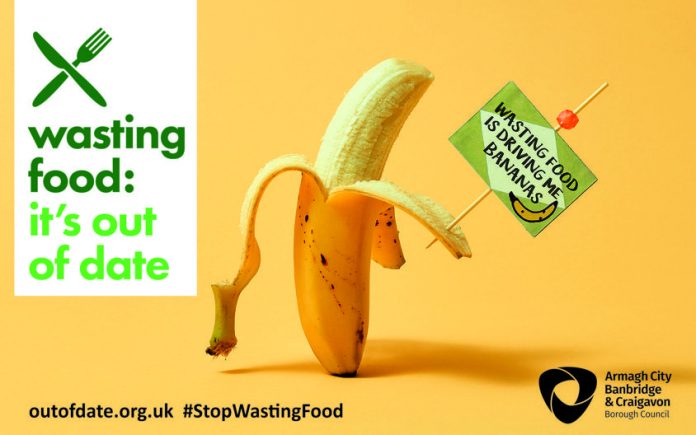 A brand new environmental initiative aimed at raising awareness of the huge impact wasting food has on climate change was recently launched by the UK's leading sustainability charity, WRAP. 
In addition to encouraging people across the UK to think about the environmental cost of wasting key items of food, it has been created to help people realise the urgency of the situation, where precious resources including water, agricultural land, and energy are wasted when food ends up in the brown bin or caddy.
This week, Armagh City, Banbridge and Craigavon Borough Council will support the initiative by reminding local communities that food is as precious as our planet and we all need to take action to prevent it from going to waste.
Very much in favour of reducing food waste generated in the home environment, Lord Mayor Councillor Kevin Savage said:
"Every little bit of edible food we waste contributes to climate change. In order to safeguard our planet for future generations, we must make wasting food socially unacceptable.
By getting behind this initiative, we hope to change local people's attitudes and behaviours towards the way they buy food, use food, store food and feel about wasting food.
Some 3,905 tonnes of food waste are collected from local households each year. This means there is a huge opportunity for us as individuals to make a positive difference and reduce the amount of food we waste. Together we can drive this number right down. Small actions can have a big impact!"
At a national level, some 9.5 million tonnes of food are wasted every year with 70% of this coming from homes. Of that, 4.5 million tonnes could have been eaten. If every UK citizen avoided wasting food for one day at home, it could do the same for climate change as planting 500,000 trees.
Sarah Clayton, Head of Citizen Behaviour Change at WRAP, added:
"Our research shows that, although 81% of people in the UK are concerned about climate change, only 37% understand that wasting food is something which contributes to it.
We are launching Wasting Food: It's Out of Date to help people recognise what a vital opportunity we have to make a difference, to make sure all those precious resources that we use growing food do not go to waste. We must make wasting food a thing of the past."
Visit www.outofdate.org.uk to learn more about the environmental cost of wasting key items of food and take part in an interactive quiz to help you see how much food you actually waste at home.
Get involved and share your pictures of how you are reducing food waste at home by using the hashtag #StopWastingFood and tagging @outofdate_uk on Twitter or @outofdateuk on Instagram.