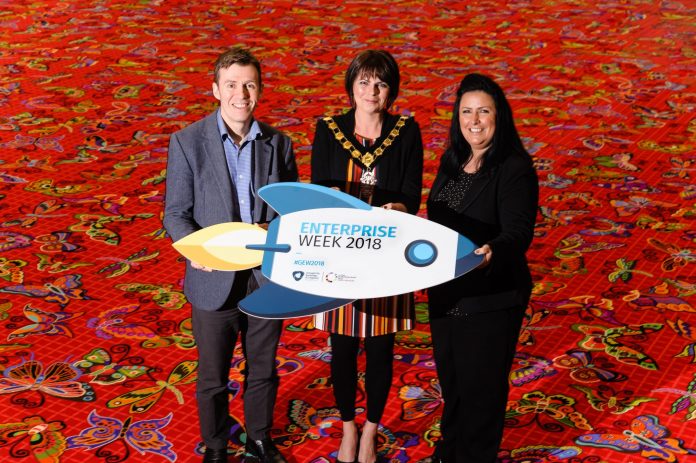 With this year's Enterprise Week rolling out from 12 to 16 November, businesses and entrepreneurs across the borough of Armagh City, Banbridge and Craigavon are being urged to be part of this enterprising initiative.
Spearheaded by Armagh City, Banbridge and Craigavon Borough Council and sponsored by Bank of Ireland, the week-long programme will see a range of inspirational and informative events take place across the borough, demonstrating council's commitment to nurturing and developing the local economy.
With drop-in clinics, workshops, information seminars and networking events offering support and guidance on a range of business matters such as: financial advice, using immersive technologies to better market your business, and driving diversification and innovation, as well as hearing first-hand experiences from industry-respected guest speakers, there really will be something for everyone.
Aimed at the whole business sector from the budding entrepreneurs right to the well-established firms, the initiative will also showcase local success stories and give businesses easy access to funders, advisors and support programmes.
Launching Enterprise Week 2018, Lord Mayor of Armagh City, Banbridge and Craigavon, Councillor Julie Flaherty commented,
"This year's Enterprise Week is bigger and better than ever – with an exciting programme of events offering information, guidance and support, it promises to inspire new entrepreneurs and businesses to take the next step in their business journey.
"With a strong entrepreneurial culture already in place, our borough is home to over 8,000 businesses, and is an increasingly important contributor to Northern Ireland's economy. Through initiatives like Enterprise Week we are demonstrating our commitment to strengthening and driving this growth and helping our local businesses flourish.
"With so many events catering to all needs, I would urge everyone in the business community to sign up and join us on this year's Enterprise Week!"
Coinciding with Global Entrepreneurship Week – which is now in its 11th year – Enterprise Week recognises and commends the innovators and job creators who launch start-ups, which bring new ideas to life. In celebration of this, local enterprise agencies, including CIDO Ltd, Banbridge District Enterprise Ltd, Mayfair Business Centre, Armagh Business Centre and Brownlow Ltd will be hosting drop-in clinics and offering advice and guidance on programmes which help turn business ideas into reality.
Roger Wilson, Chief Executive of Armagh City, Banbridge and Craigavon Borough Council, commented,
"Our borough has carved itself a reputation as being 'open for business' both locally and globally, which has not only helped sustain but also strengthen the local economy. However, we are not content with resting on our laurels as through our many programmes and initiatives such as Enterprise Week as well as our partnerships with Young Enterprise NI and further education colleges we are committed to encouraging our entrepreneurial culture and fostering our future business leaders."
This year's Enterprise Week was launched at Craigavon's Ulster Carpets, who export 75% of their product out of the United Kingdom, commenting on the programme, the company's Group Managing Director and Deputy Chairman Nick Coburn said,
"Over the years, we have taken the positive attributes associated with being a family owned and professionally managed company and combined them with a forward thinking, global approach to business. The result is a technologically advanced, service driven company with flair, flexibility and a passion for quality. We are looking forward to hosting an event for Social Economy organisations as part of Enterprise Week 2018 as we celebrate our 80th year in business."
With the theme of 'Inspire, Innovate and Invest', Enterprise Week will provide information, services and programmes to help build strong thriving economy.
For details on all the events featured in this year's Enterprise Week and to reserve your place visit: https://abcenterpriseweektickets2018.eventbrite.co.uk
The Global Entrepreneurship Week debate can be followed on Facebook and Twitter #GEW2018 and #ABCEW18.