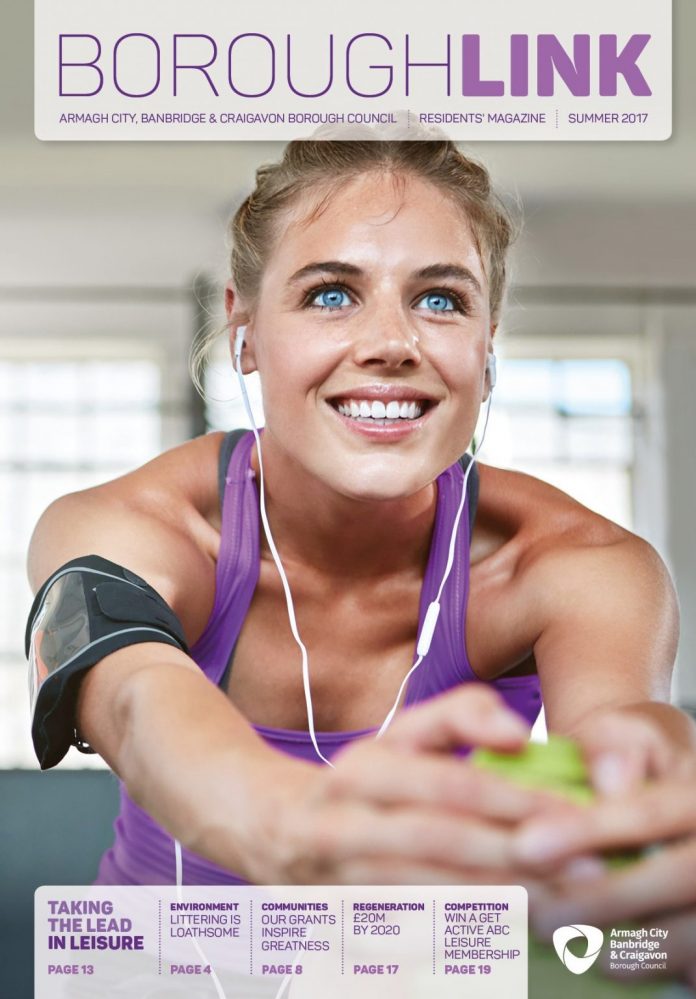 Council has produced another jam-packed issue of its Borough Link magazine to keep residents and ratepayers fully informed about the work it is undertaking to promote a better quality of life for local people.
Borough Link will be delivered to over 85,000 households across the borough during the last week of June and includes an interesting mix of articles covering topics such as new anti-littering initiatives, food waste recycling, Fairtrade Borough status, youth engagement programmes, new physical activity programmes, business support programmes, the Food Heartland Forum, Oxford Island, free CPR training sessions for communities, regeneration projects and much more.
The main feature outlines how the council is helping to promote the health and well-being of local people by investing in new facilities and improving service provision. It provides an update on the £30m+ South Lake Leisure Centre in Craigavon, reviews options for enhancing leisure and sport provision in Armagh, along with upgrading 44 play areas at a cost of £4.75m over the next five years.
In addition, it introduces the new Get Active ABC leisure memberships, the new getactiveabc.com website and two new physical activity programmes, Get Out Get Active (GOGA) and Move More Armagh Banbridge and Craigavon. The former is designed to encourage less active members of the community to be more active, whereas the latter aims to help people diagnosed with cancer to find effective to get and stay active. Plus, discover what Oxford Island National Nature Reserve has to offer by way of leisure and recreation.
It also highlights the £20m investment from the private and public sectors that is supporting regeneration projects across the borough until 2020, and how £2.09m in council funds is delivering real benefits to local communities. Entrepreneurs may be interested in the council programmes that have the potential to propel their businesses to greater success. There's also an update on the multi-award winning Food Heartland Forum.
Learn about how you can help promote a cleaner borough by supporting a range of initiatives such as Green Dog Walkers, Adopt a Street and Live Here Love Here. Householders are asked to help increase the borough's recycling rate for biodegradable waste by placing all food waste in their brown bins or caddies, as well as show their support for using Fairtrade products.
Discover how the council is helping disengaged young people become respected and valued members of their local community. Get advice on how to spot and stop a scam and how to keep babies and children safe from window blind cords, and an update on new legislation relating to the display of food hygiene ratings and the sale of tobacco products.
Find out why Ronnie McFall MBE who is the first celebrated citizen to be awarded Freedom of the Borough is most deserving of this prestigious honour.
There's also the usual what's on guide covering events taking place in the borough between July and November and councillors' contact information with a few new faces in this year's line-up.
Don't forget to enter the competition to be in with a chance of winning a Get Active ABC leisure membership worth £355. Entrants must be aged 16+ and reside in the borough. The competition prize is sponsored by FP McCann – the company responsible for carrying out works as part of the £2.68m Portadown Linkages project.