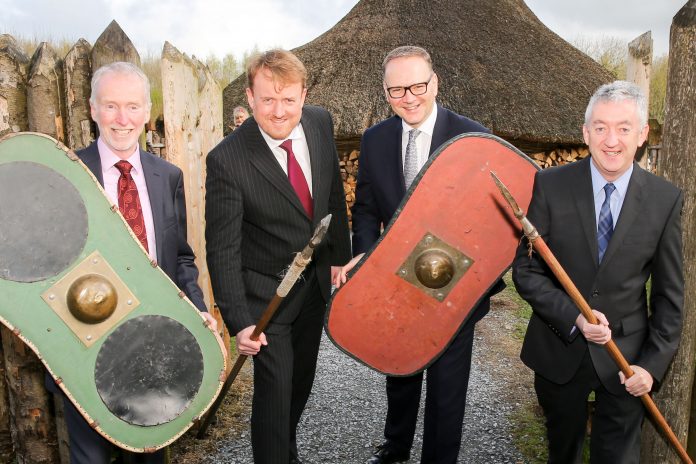 Plans for annual 10% tourism growth highlighted at major borough-wide Tourism Conference at Navan Centre & Fort, Armagh
Armagh City, Banbridge and Craigavon Borough Council (ABC Council) today unveiled ambitious plans to bolster its standing as a market-leading heritage and cultural international tourism destination within five years.
Attracting more visitors and increasing tourism spend are at the heart of its tourism blueprint which will help in growing the local tourism economy by 10 percent every year to 2022.
The launch of the council's integrated strategy was part of a major Tourism Conference – a first for the borough – which was held at Navan Centre and Fort with the support of Tourism NI and Tourism Ireland.
The council's new and comprehensive five-year tourism development strategy and action plan sets a clear five-year vision and direction for building the borough's national, regional and international profile as a successful and compelling tourist destination.
Colin McCusker, Chair of Economic Development and Regeneration at the council, said:
"Tourism is a crucial pillar in the council's economic plans and it represents a huge opportunity for further growth and development. To deliver on our ambition, in partnership with Tourism Northern Ireland, Tourism Ireland and the private sector, the council has set out a clear and ambitious plan to maximise and drive the opportunities available and to capitalise on the outstanding tourism assets we have."
The plan outlines a path to further developing cultural visitor experiences for the international market across the borough, taking in its linen and literary history and its success in producing high-quality artisan food and drink.
Further development and greater investment in the already-successful F.E. McWilliam Gallery & Studio is also earmarked as part of the plan, alongside an enhanced events programme which includes the Home of St Patrick, Food & Cider and Georgian Festivals.
Achieving a significant ramp-up in visitor numbers and, crucially, increased spend, a key focus will be on establishing Armagh City and the orchard hinterland as a destination centrepiece, in addition to pursuing new tourist accommodation development opportunities borough-wide.
The council's unified plans are aligned with key government plans to drive a greater number of visitors from outside Northern Ireland, to increase tourist spend and better compete in the highly-competitive global tourism marketplace.
John McGrillen, Chief Executive, Tourism NI, said:
"Tourism is central to Northern Ireland's developing economy. It creates jobs, sustains communities and provides exciting opportunities for investment.
"The ABC area is rich in history, culture and heritage and is fast gaining a reputation for the quality of its food, drink and hospitality offer. Working together, we will assist the Council to deliver on its vision for Armagh City, Banbridge and Craigavon so that the area can realise its full potential."
Speakers at the borough's inaugural tourism conference included Aubrey Irwin, Tourism Ireland, who addressed delegates on what international visitors expect.
Brian Tyrrell, Senior Executive Officer at Kilkenny County Council outlined how community participation across cities, towns and rural areas were crucial for tourism success and what lessons could be learned from the development of the Kilkenny city's award-winning 'Medieval Mile' visitor experience.
Additionally, Joyce Brownless, proprietor and owner of Blackwell House, a 5-star guesthouse in Gilford, spoke about her experiences within the industry and the avenues available for the borough with the increasing numbers of international visitors.