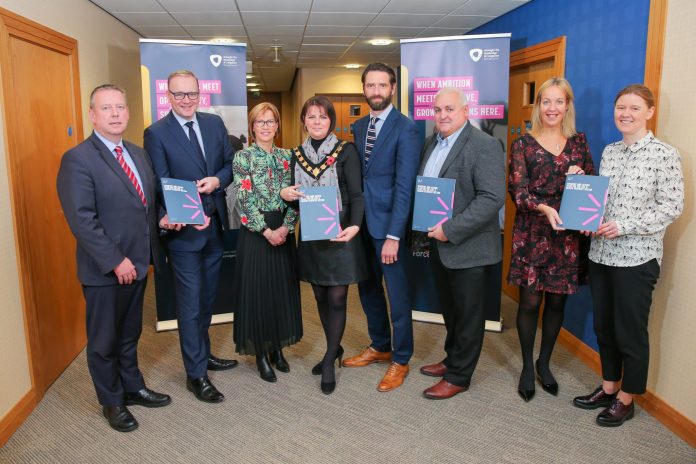 A strategy and action plan for the life and health sciences sector has been recently launched by Armagh City, Banbridge and Craigavon Borough Council, guaranteeing sustained council support for the sector over the next two years.
The strategy and action plan was officially launched at Craigavon Civic and Conference Centre last week, bringing together a diverse range of high profile representatives from industry, academia and government.
Attendees got to hear about council's ambitions for the local life and health sciences sector and its commitment to working collaboratively to maximise economic opportunities for the borough.
The event saw guest speakers from the Department of Health and HSC Innovation provide updates regarding Northern Ireland life and health sciences policy and innovation activity. Local businessman Brendan Crossey shared his positive experience of building a successful health analytics business in the borough and STEM learning representative, Dr. Gillian Humes set out plans for the establishment of the first entirely locally funded Enthuse Partnership in the region.
Outlining how council in cooperation with industry and educational partners will deliver initiatives and support mechanisms, the strategy aims to accelerate growth within the sector by 2020.
Key to this growth will be developing formal links between anchor institutions, small and medium-sized enterprises and education providers; supporting skills availability; encouraging entrepreneurship and attracting investment; as well as fostering cross-over between complementary sectors.
Welcoming support for the life and health sciences sector, Lord Mayor of Armagh City, Banbridge and Craigavon, Councillor Julie Flaherty commented,
"Home to world-renowned businesses in pharmaceuticals, medical diagnostics and health analytics – which support over 8,000 jobs across 150 local businesses – as well as a major hospital and a local college designated as a life sciences education hub, our borough is without a doubt a key player within the sector.
"As such, we believe it is important to secure the future of this dynamic sector to guarantee the long-term success of our local economy. Over the next two years, this new strategy and action plan will create and champion a culture of collaboration focussed on investment and growth within the sector.
"Most significantly it marks an exciting era for the borough that will highlight our standing as the location of choice for life and health sciences businesses."
The strategy has also brought about the establishment of a life and health sciences sector forum, which will work through barriers to sectoral growth and encourage innovation and progress around collaboration, growth and entrepreneurship, inward investment and skills within the sector.
"The Armagh City, Banbridge and Craigavon Borough Council area has huge potential to drive success in this critical sector for the economy. By bringing leadership together from education, industry and healthcare we are seeking to convert this potential into a real and lasting economic engine for the borough.", commented chair of the life and health sciences forum, Dr Rob Grundy.
To find out more about the life and health science strategy and action plan and sector forum please visit armaghbanbridgecraigavon.gov.uk.