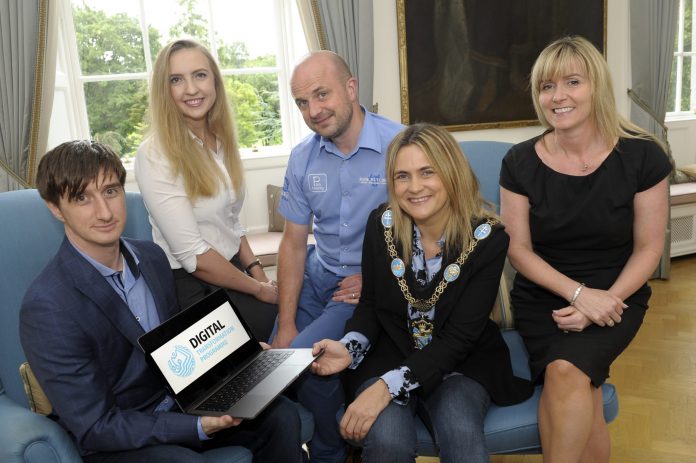 Armagh City, Banbridge and Craigavon Borough Council's Digital Transformation programme is once again open for applications with over 50 local businesses having already benefited from the support offered by the programme.
Part funded by Invest Northern Ireland and the European Regional Development Fund under the Investment for Growth & Jobs Northern Ireland (2014-2020) Programme, the project – launched in 2017 – provides assistance and mentoring to traditional and digital small medium enterprises (SMEs).
Offering a bespoke one-to-one service support, the programme equips businesses with digital skills in a vast range of subjects. Businesses can increase their digital marketing expertise through availing of support in areas such as social media, web development, online advertising, search engine optimisation (SEO), analytics and content creation, which will aim to enhance customer engagement, increase sales and in turn drive job creation. Innovative technologies are also explored with a focus on mentoring, implementation and use of digital technologies, including the internet of things, cyber security, big data, gamification, virtual reality, augmented reality and 3D modelling, which will help accelerate business growth and job creation.
The Digital Transformation programme is currently being delivered by 42Digital on behalf of the council. Aided by a team of mentors, including digital experts from the Southern Regional College, the programme delivers mentoring and workshops to assist businesses in implementing a diverse range of technology.
The Lord Mayor, Councillor Mealla Campbell recently met with three businesses who have participated in the programme; Bid Ma Bistro, GVH Van Hire Ltd – TFK Group and the Belmont House Hotel. Following their meeting The Lord Mayor commented, "The council operates a range of programmes to help local businesses and it is fascinating to hear how companies have developed following this support.  Digital technology is becoming a crucial aspect in every business and this programme helps companies attain the right skills and knowledge, helping drive growth and strengthen the digital economy."
The Belmont House Hotel took part in the Digital Innovation track of the Digital Transform programme where the company sought assistance to develop new 360 images, videos and virtual tours for customers on its website and social media channels. Following support from the programme the Belmont House Hotel is now able to provide a new service to its customer base offering an interactive "virtual visit" of the hotel. The hotel is now planning to take forward an art themed virtual tour of the hotel celebrating the work of local artists.
GVH Van Hire Ltd – TFK Group also received support to drive their online presence and marketing strategy in the right direction. Speaking about the programme Caroline Pearce from the business encouraged others to use the programme stating, "This is a wonderful programme and I would highly recommend it to any business user who like myself was confused by digital technology".
To be eligible to apply, your business must, be located in Armagh City, Banbridge and Craigavon Borough; employ fewer than 50 employees; be actively trading and; not currently receiving similar support elsewhere.
Eligible businesses who are interested in the programme should visit www.digitaltransformationprogramme.com to learn more about the application process.
Applications for this call close on the Friday 30 August 2019
For further information on other programmes available through Armagh City, Banbridge and Craigavon Borough Council sign up to our business e-newsletter through www.armaghbanbridgecraigavon.gov.uk