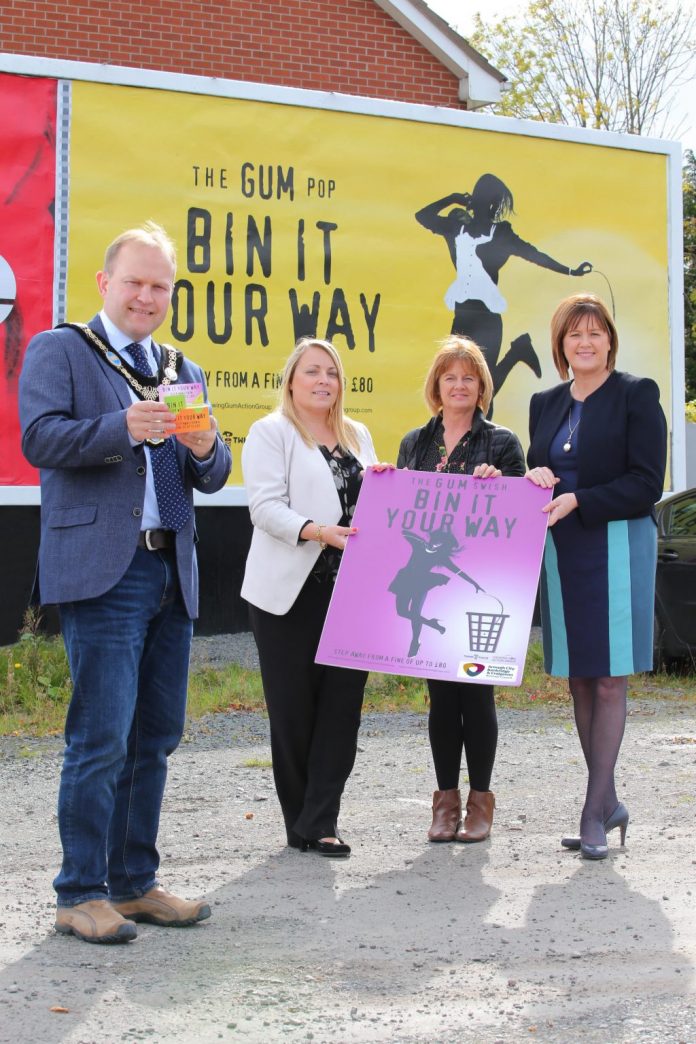 Armagh City, Banbridge and Craigavon Borough Council has been chosen for the fourth year running to deliver a high profile campaign in an effort to reduce gum litter across the borough. The council is the only local authority in Northern Ireland to run the campaigns from 2014, which has seen significant successive reductions of the amount of gum dropped in areas monitored.
The dynamic, brightly coloured advertisements will appear in a range of locations across the borough, including roadside banners, ad shells, bus stops, billboards, posters, indoor and outdoor banners, window stickers, beer mats and lamppost boards. The advertising features dance moves, encouraging people to dispose of gum litter responsibly in a fun and engaging way or face a fine of £80.
Supporting the campaign this year, Alderman Gareth Wilson, Lord Mayor of Armagh City, Banbridge and Craigavon said:
"We are thrilled to champion and lead this campaign again for the fourth year, as it not only highlights our commitment to raising awareness of chewing gum litter and its proper disposal but also our overall pledge to protecting and safeguarding our environment for the future.
We hope this engaging campaign will promote a positive shift in the behaviour of gum droppers, which as a result will bring about a reduction in this unsightly litter and a cleaner more attractive environment for our residents, visitors and businesses from the borough."
Ian Humphreys, Chief Executive from Keep Northern Ireland Beautiful added:
"We are passionate about creating cleaner and greener communities for everyone living in, working in and visiting Northern Ireland and so it brings us great pleasure to partner up with Armagh City, Banbridge and Craigavon Borough Council through 'Live Here Love Here' and the 'Chewing Gum Action Group' to support this campaign.
Using creative measures, this innovative campaign will help to drive further awareness of the importance of binning used gum responsibly and by working collaboratively we can make a positive impact in our communities and ultimately environment."
The campaign has been funded by the Chewing Gum Action Group (CGAG), an organisation chaired by Defra (Department for Environment, Food and Rural Affairs) and by the chewing gum industry to tackle gum litter in the UK.
For more information, please visit www.chewinggumactiongroup.org.uk