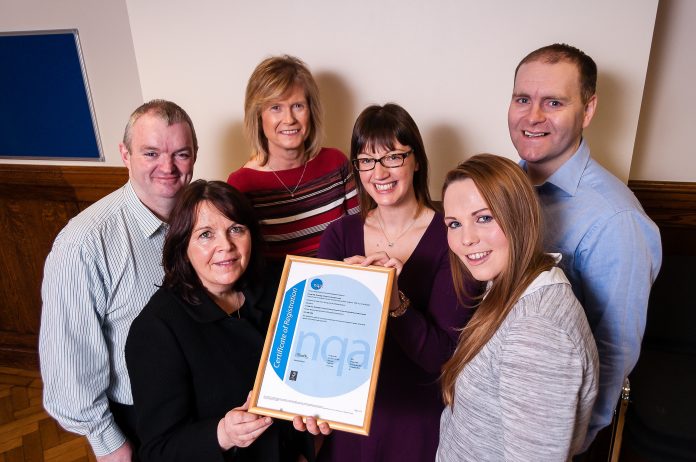 Armagh City, Banbridge and Craigavon Borough Council has demonstrated its ongoing commitment to continually improve the way in which it interacts with the environment by achieving the international  Environmental Management System standard ISO14001 and extending the certification to cover all departments and buildings throughout the entire organisation.
In April 2015 an Environmental Management Systems working group was set up to work towards the goal of achieving full certification by examining practices and policies to ensure compliance with environmental legislation, prevent pollution and promote continuous improvement in environmental performance.
As part of the implementation process, council staff assessed all potential areas of negative impact, including waste management, energy use, air emissions, water use and discharge, storage, pollution risk assessment and transport. Following this, they developed a clear and coherent framework by which they could demonstrate a formal approach to environmental management.
Following an extensive three day external audit of the councils EMS procedures and practices Dr Margaret Rooney, NQA Regional Assessor concluded that the council was achieving the expectations set out by ISO14001. Dr Rooney commented, "Commitment to the Environmental Management System is clearly evident from this visit, and much effort, against a background of significant and continuing change, has been made by the EMS team to keep the ISO14001 in place and effective."
Head of Environmental Services Department Barry Patience said, "ISO14001 demonstrates our commitment to delivering quality services whilst protecting, improving and enhancing our local environment. Armagh City, Banbridge and Craigavon Borough Council is determined to meet all environmental legislative requirements and we continue to improve our environmental performance throughout all departments. We have established a well-documented system which has been met with enthusiasm by staff and we will continue to negate our environmental impact while encouraging the wider community to take positive steps towards environmental improvement"
The council will be externally audited on an ongoing basis to ensure its Environmental Management System is maintained and commitment to continuous improvement is clearly demonstrated.