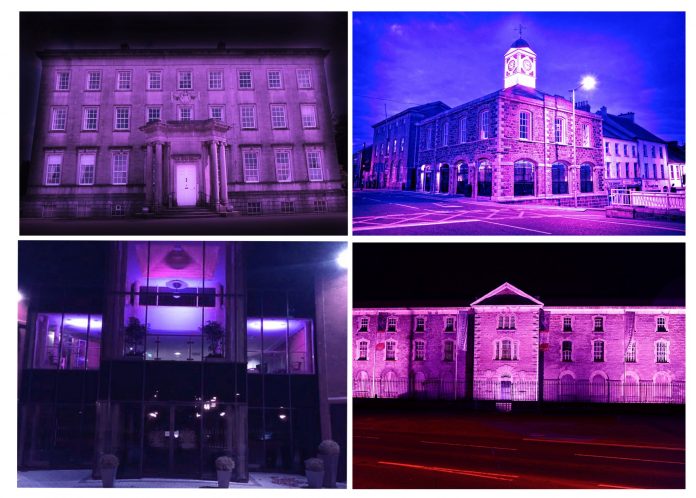 Banbridge Old Town Hall, Craigavon Civic and Conference Centre along with Armagh Gaol and The Palace will be among hundreds of iconic landmarks around the world to light up purple in support of World Mental Health Day on Tuesday 10 October.
With mental health in the workplace the theme of this year's campaign, the Council is keen to encourage local businesses to be pro-active in promoting the emotional wellness of employees, foster a culture of openness when talking about mental health issues and be supportive in helping those who experience mental health problems.
Speaking about this important issue, Lord Mayor, Alderman Gareth Wilson, said:
"Northern Ireland is reported to have a 25% higher overall prevalence of mental health problems than England. Whilst multiple factors affect an individual's mental health, work-related stress also contributes to this stark disparity.
Employers who put in place workplace initiatives to promote positive mental health and support employees who have mental health issues see gains not only in the health of their employees but also in their productivity at work.
As an employer with over 1,350 staff, we have a duty of care to promote a healthy workforce and are already supporting a range of initiatives aimed at enhancing staff's overall wellbeing.
Staff can avail of complimentary use of council leisure facilities where they can increase their level of physical activity and de-stress the mind and body. We also offer a free, confidential counselling service to staff in need of an independent source of support.
In addition, we deliver managing mental health in the workplace seminars for managers and offer a regular programme of workshops on topics such as mindfulness, suicide awareness, stress and emotional resilience, and work-related stress.
On World Mental Health Day, we will be delivering relaxing chi me exercise sessions for staff at a number of council facilities. As an employer, we can see the benefits of being tuned in to the needs of staff and would encourage other employers in the borough to do the same."
To find out more about World Mental Health Day and access a wealth of resources on mental health in the workplace, visit www.mentalhealth.org.uk