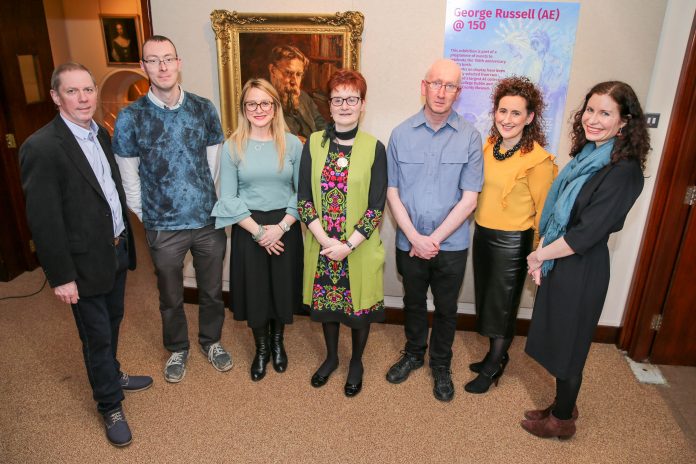 The 150th anniversary of the birth of Lurgan born George Russell (AE), the internationally renowned economist, artist, journalist, poet and writer, takes place on 10th April – and Armagh City, Banbridge and Craigavon Borough Council is holding a rich programme of events to celebrate the occasion.
Aimed at people of all ages, events are now underway and the variety of exciting events taking place means everyone can enjoy finding out more about the man who went under the pseudonym 'AE'.
AE @ ARMAGH COUNTY MUSEUM
Armagh County Museum holds one of the largest collections of AE's art in the world and the most comprehensive archive of his papers this side of the Atlantic. To celebrate this important year the museum will be showcasing its AE treasures in two exhibitions running at the same time from 11th March to 22nd April 2017 – one examining his life and work and the other celebrating his artistic talent.
The art exhibition draws not only on the museum's own collection but through the generosity of Trinity College Dublin, has borrowed 16 works which will also be on display. This will be the first time the Trinity paintings have been publically exhibited as a group and with over 35 works on display this will be the largest collection of AE's seen in Ireland for many years.
The exhibition has deliberately concentrated on works that reflect how much AE was enthralled by Irish mythology and spiritual ideology. His mystical images can be placed within the wider artistic school of Symbolism and demonstrate how he looked at ancient folklore, traditions and legends for his inspiration.
Several lectures will also be taking place. Dr Róisín Kennedy is a graduate of University College Dublin and has written widely on modern art in Ireland. She will be speaking at the Irish and Local Studies Library, Abbey Street, Armagh on Wednesday 29th March at 7.30pm. The title of her lecture is 'George Russell and the Role of Visual Art in the New Ireland'.
Dr Nicola Gordon Bowe, the well-known art writer and lecturer and an acknowledged expert on Irish stained glass will speak on the last day of the museum's exhibition. Her talk entitled 'His Opalescence: AE, writer, painter, mystic, champion of wisdom, sense and artistic vision during the Irish Revival' takes place at Armagh County Museum on Saturday 22nd April at 11.30am.
AE DAY IN LURGAN
On Saturday 8th April there will be a special AE Day in Lurgan, starting at 11am at Brownlow House. The day will begin with a walking tour of Lurgan sites connected with George Russell. Sites of interest will include the house he was born in at William Street, Lurgan Model School, Brownlow House, Lurgan Park and Shankill Parish Church. The tour will be taken by local historian Jim Conway and will last approximately an hour.
At 2pm, 'Russell expert' Professor Nicholas Allen from the University of Georgia, will be travelling over to give a lecture in Brownlow House based on his own acclaimed book, 'George Russell and the New Ireland'. It will provide a history of Russell's life through his many writings, including his contributions to 'The Irish Homestead' and 'The Irish Statesman'
At 4pm, Professor Liam Kennedy from Queen's University Belfast, will give a lecture entitled 'George Russell, the myriad-minded man from Lurgan: Out among the small farmers of Ireland.' Liam, who is recognised as one of the foremost authorities on the economic history of Ireland, will provide an insight into AE's attempts to alleviate poverty in rural areas through the promotion of the co-operative movement.
AE POETRY EVENING
To mark AE's birthday on Monday 10th April, the Beehive Bar, William Street in Lurgan will host an Open Mic poetry evening in tribute to AE's talent as a poet. The location is very appropriate as AE was born in the building in that now houses the Beehive Bar.  Come along and read your own poetry or that of your favourite poet. Readers of all styles and experiences, from first timers to old pros, are welcome.
AE POETRY SCHOOLS COMPETITION
Five classes from schools in the Lurgan area (Lurgan Model P.S; King's Park P.S; St. Francis P.S.; St. Ronan's College and Lurgan Junior High School) are participating in a Poetry Competition which will be held in honour of AE between March and April 2017.
Over three poetry workshops, the pupils are being guided in the composition, writing and editing of their poetry by local poet Martelle McPartland. As part of the workshops each class also visits a local historical site to help inspire them in writing their poetry.
When the workshops are completed, all classes will submit their poetry for adjudication by poet Colin Hassard. The overall winner of the poetry competition will be awarded the George Russell Poetry Cup, kindly supplied by Brownlow House at a ceremony in the Lurgan Town Hall., in April.
AE TALK
On Tuesday 11th April Lurgan Library will also host an evening talk and discussion entitled 'The Life and Times of a Lurgan Son: AE George W. Russell', which will be delivered by John Donohoe. Mr Donohoe is an avid collector of works by AE Russell and runs an antiquarian bookshop in Athlone – a bookshop he bought when he sold an original AE painting he had owned for many years! Interestingly, it is rumoured that U2 guitarist 'The Edge' bought the painting!
As part of this events programme Council has been working with academic institutions including Queen's University Belfast, University of Ulster, University College Dublin, National College of Art and Design, Dublin, Trinity College Dublin and the University of Limerick. Other partners include Libraries NI and National Museums NI.
A BIT ABOUT GEORGE RUSSELL
George Russell (pseudonym AE) was born in William Street, Lurgan in 1867. He lived in Lurgan until he was 11 years of age, before moving to Dublin with his family. However his time in Lurgan influenced him greatly. It has been said that during trips to Lurgan Park Russell would watch the dragonflies hovering over the lake; the memories of the blue and green colours dancing over the lake stayed with AE and when it came to publishing his books of poetry later on in life, he chose blue and green covers as a result of this fine memory. Russell's lifelong belief in pacifism and reconciliation may also have sprang from his disillusionment with the antagonism he witnessed between people of opposing political beliefs.
In Dublin, Russell, along with is friend William Butler Yeats, became a central figure in the Irish Literary Revival. As well as writing his own poetry and plays, Russell also supported and sponsored the work of other aspiring writers including such famous figures as Frank O'Connor, James Joyce, Patrick Kavanagh, Helen Waddell and even the American author Pamela Travers who would later write Mary Poppins.
He was noted for his exceptional kindness and generosity towards younger writers. Frank O'Connor later called him 'the man who was the father to three generations of Irish writers'.
As editor of 'The Irish Homestead' and later 'The Irish Statesman' agricultural magazines he became an active advocate of the Agricultural Co-Operative Movement, which strove to alleviate rural poverty by encouraging co-operation among Irish Farmers. This movement later influenced the rise of the Credit Union movement.
Russell's pacifist ideals also won him great fame throughout the world. In 1931, Russell was invited to meet Mahatma Gandhi in London, who of course also believed in non-violence. Russell was unable to meet him as his wife fell ill.
Russell died in 1935. He is buried in Mount Jerome Cemetery, Dublin. However, his memory lives on in County Armagh where a blue plaque marks the site of his birth place in William Street, Lurgan and a bronze bust, presented by the Irish Co-Operative Organisation Society, has pride of place in Lurgan Town Hall.
Dublin too remembers this 'myriad minded man'. A plaque marks Russell's house at 84 Merrion Square, while a bust of AE stands in Merrion Square Park.