Hello and welcome to Let's Light up our Borough this Christmas, where together we can make this Christmas an extra special celebration.
Find out what's on including our virtual light switch on, magical Christmas trails in our town centres, how to shop safely and support local businesses this Christmas and where you can park free in our urban towns across the borough. Embracing community spirit and keeping hope alive is the focus of our campaign for this year.  It is a special time of the year and as Lord Mayor I want to thank you for your support during what has been a very different and challenging year.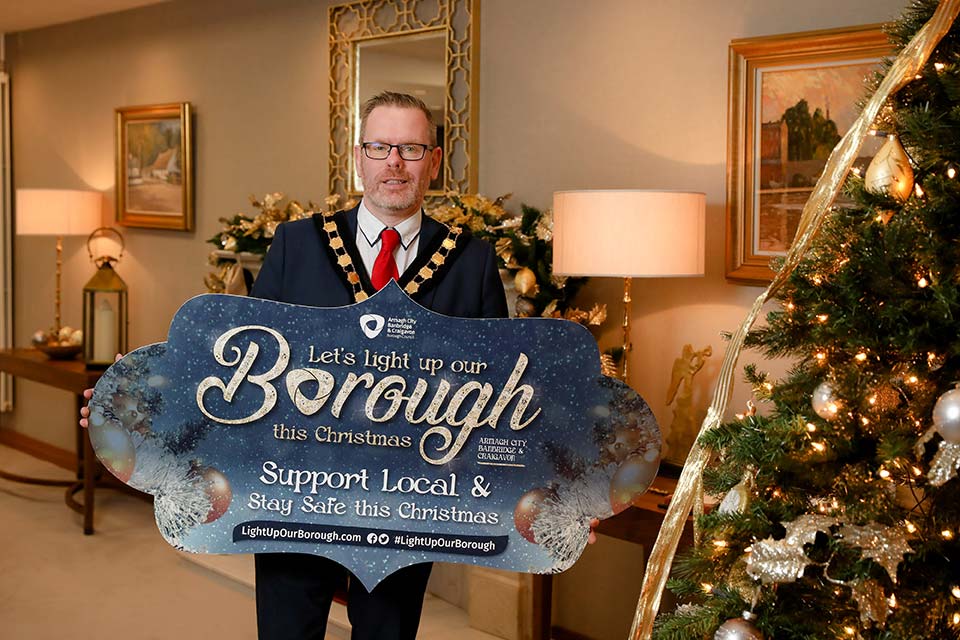 This year has been a year like no other for our families, friends, community, and businesses, all of which have faced – and continue to face, significant challenges due to the pandemic. With this in mind, it is vitally important that we bolster our borough's community spirit, to keep the 'light' of Christmas joy alive for everyone. You have shown that the strength of our community spirit is a huge part of who we are, and it has been truly heart-warming to see the overwhelming efforts of so many people across our borough throughout the year, particularly our community volunteers.
It is essential for everyone's wellbeing, especially our children's, that we make this an extra special community focused Christmas, by celebrating it in unique and safe ways that will continue to bring the magic of Christmas to everyone.  As a strong borough community, we must focus all our efforts into support those who need our help most at this time of year, particularly our local businesses and I encourage you to think local first, and support our city, towns and villages. I want to say a special thanks to all the frontline and healthcare workers, who have given so much of themselves for us and who continue to so, especially over the festive season.
Finally, as a community it is important that we reflect and remember those no longer with us, and in particular we remember those who have lost loved ones this year – we carry them with us in our hearts and keep them in our thoughts and prayers. Let's Light up our borough this Christmas and make it an extra special celebration by taking time to be thankful for what we have, look after each other, and cherish our families and friends.
Wishing you and your families a safe, peaceful and joyful Christmas.