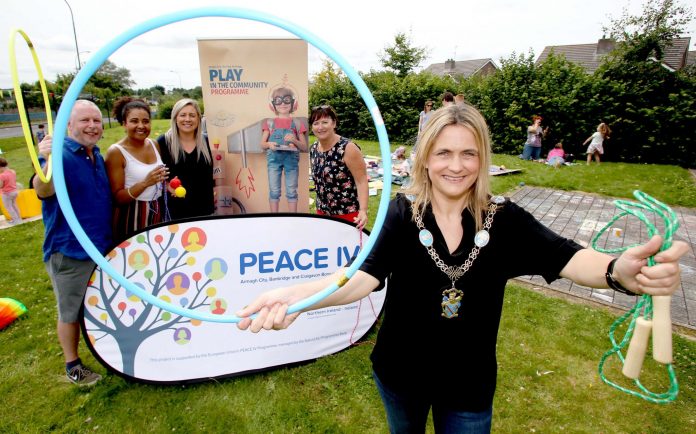 Armagh City, Banbridge and Craigavon Borough Council launches 'Play in the Community', a traditional outdoor play and events programme.
'Play in the Community', a free, fun new programme for children and parents/guardians across Armagh City, Banbridge and Craigavon Borough, gives families and communities access to a broad range of play and an opportunity to build positive relationships through play.
The exciting play programme, which includes traditional activities such as den building, painting, hopscotch and skipping, has already started in four central areas in Craigavon and registration will soon be available for other parts of the borough: www.getactiveabc.com/book.
'Play in the Community' offers parents and guardians the opportunity to train and gain qualifications in Playwork, all free of charge, which will develop leadership skills, confidence and capacity, and improve the quality of life for communities.
The project is funded by the PEACE IV Programme, a cross-border initiative, financed through the European Union and managed by the Special EU Programmes Body (SEUPB). It has been designed to support peace and reconciliation in Northern Ireland and the Border Region of Ireland.
Play is central to the lives of children and young people. Through play children and young people explore the physical and social environment in which they live; learn and develop new skills and abilities; test out ideas and concepts; and learn how to assess and respond to risk or situations that trouble them.
Play supports healthy growth and development and has a range of benefits including improved physical health and mental wellbeing; enhanced emotional resilience; improved educational capacity; as well as the wider community benefits which come from children and young people being visible and active through outdoor play.
It is often assumed that play is something that children do naturally – and to some extent this is true. However as lives have become more complicated, busy and risk averse the opportunities for children to play freely within the community have been reduced significantly.
As a result, despite the benefits associated with play, many children and young people face a wide range of barriers that prevent them from playing in a way that meets their needs. Such barriers typically include a lack of accessible play spaces within communities; increased levels of traffic restricting street play opportunities; uninspiring fixed play areas that lack challenge and fail to engage or encourage children to play; a lack of inclusive play provision for children with disabilities and, at societal level a lack of tolerance amongst some adults for children at play outdoors in their community.
Speaking at the recent 'Play in the Community' launch, Lord Mayor Councillor Mealla Campbell commented: 
"Numerous studies have shown that play benefits both the individual and wider society, and is a crucial aspect of child development.
"For children play is a constant part of their everyday lives. Our aim is to create more play friendly and playable communities which recognise and celebrate play as a key part of community life.
"We recognise that for many children and young people the most accessible play spaces are those located in the area in which they live and with our support, through programmes such as Play in the Community, these spaces can be better utilised for play."
'Play in the Community' offers play for children up to 16 years old, regardless of ability, and the council has commissioned PlayBoard NI to deliver the play elements of the programme. PlayBoard is considered the leading organisation for the development and promotion of children and young people's play in Northern Ireland.
Match-funding for this project has been provided by the Executive Office in Northern Ireland and the Department of Rural and Community Development in Ireland.
For more information email Caoilin, Evia or Joan from the Play in the Community team: .
This week we also celebrate National Play Day on Wednesday 7 August. The annual event takes place on the first Wednesday of August each year and provides a national focus for children and young people's play.