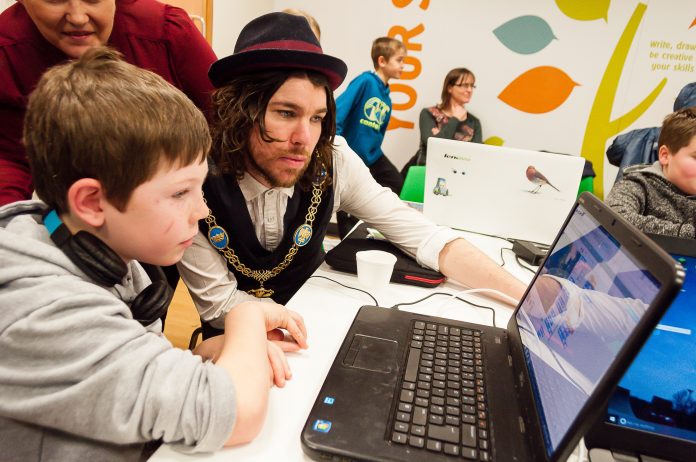 The volunteer-led CoderDojo Banbridge, which is a free computer science club set up to enable young people learn to write code, develop apps, create games, build websites and explore technology in an informal, creative and social environment, has produced its first set of graduates.
Some 10 young people from the borough and beyond, who successfully completed the Google Computer Science First programme as part of their participation in CoderDojo, recently attended a celebratory event in Banbridge where they received a certificate from Lord Mayor of Armagh City, Banbridge and Craigavon Borough, Councillor Garath Keating.
On presenting the certificates, Lord Mayor of Armagh City, Banbridge and Craigavon Borough, Councillor Garath Keating, said:
"Congratulations to our CoderDojo participants on gaining a recognised qualification and thanks to all the volunteers for running these clubs and giving our young people an opportunity to get an early introduction to computer programming.
It is owing to community-based initiatives such as CoderDojo Banbridge that the programmers and technical visionaries of today are mentoring and assisting the digital experts of tomorrow. We are fully supportive of such initiatives as improving the skills of young people fits in with our wider agenda of growing the economy."
CoderDojo, which is a global initiative aimed at equipping young people with new digital skills and developing their knowledge in computer science, has been running in Banbridge for over two years now with support from Armagh City, Banbridge and Craigavon Borough Council and Tesco Extra at Bridgewater Park.
CoderDojo Banbridge volunteer, Mark Corkery, added:
"For most young people digital technology is an everyday part of life. Many are avid consumers of digital media. However, they often don't understand how to manipulate the underlying technology, let alone how to create it for themselves.
As technology shapes our world, young people need to be able to shape it too. As skills and work become increasingly technologically mediated, the need for digital skills is paramount. Through CoderDojo Banbridge, we can encourage more young people to try out coding and consider studying and working in this sector."
CoderDojo Banbridge offers different themes to attract and engage students of varying backgrounds and interests and include storytelling, art and games design. If you know a young person aged 7 to 17 interested in joining CoderDojo Banbridge, you can register at www.banbridgecoderdojo.eventbrite.co.uk
New members are welcome from all parts of the borough and no previous programming experience is required. Sessions are held on the 2nd and 3rd Saturday of each month in the Community Room, Tesco Bridgewater Park, Banbridge. Children under 15 must be accompanied by an adult for the duration of each session. Places are limited at each session. All CoderDojo Banbridge volunteers are now StemNET ambassadors.