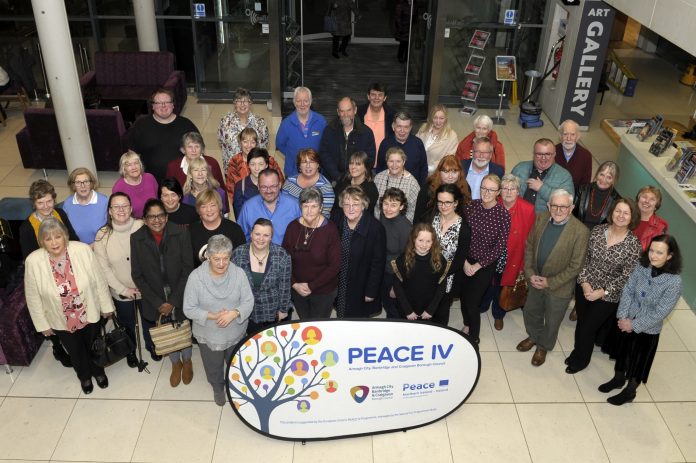 Creative writing course focused on building positive relations concludes on a celebratory tone.
Taking place at the Market Place Theatre & Arts Centre last week, the celebratory night saw over 40 people come together to mark the positive conclusion of a recent creative writing course. Leading the celebrations, local author, Bernie McGill commended the participants' hard work and commitment throughout the project.
Funded by the PEACE IV programme and in partnership with The John Hewitt Society, the course brought together participants from across the borough of Armagh City, Banbridge and Craigavon and from a variety of backgrounds to engage, connect and to do something a bit different. Running for six weeks, participants shared stories and explored topics such as growing up, childhood games, working life, community and diversity – all helping towards building positive relations across the borough.
Through the Peace IV Programme, Armagh City, Banbridge and Craigavon Borough Council is supporting a number of projects, initiatives and events across three themes, 'Children and Young People', 'Shared Spaces and Services', and 'Building Positive Relations' as means to develop and promote community relations, respect, diversity, active citizenship and working to improve people's quality of life.
To learn more about the PEACE IV Programme and upcoming events, please visit www.armaghbanbridgecraigavon.gov.uk/resident/peace-iv