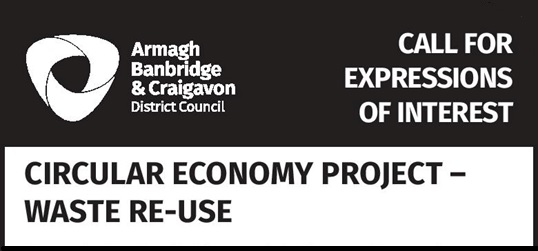 Council have identified a funding opportunity through Urban Innovative Actions (UIA) up to a maximum of EUR 5Million ERDF co-financing to support and grow the circular economy within our Borough and prioritising the social economy as a key enabler.
One of the project objectives is to influence consumption patterns through the encouragement of reusing / repairing / recycling materials, creating a behaviour change within the Borough utilising an existing established re-use facility.
The project aim is to:
Test new, innovative, bold and unproven ideas addressing interconnected waste challenges and experiment how these respond to the complexity of real life.
Proposed Project Approach – Expression of Interest (EOI)
Forming a stakeholder action group. Under the EOI, all interested agents must confirm how they would undertake and manage elements of this project, incorporating the existing re-use facility and providing any established case studies / references.
Interested parties can submit an EOI for one or both elements of this project. Council welcome EOI's from delivery partnerships.
The Elements are as follows:
1) Social Enterprise Groups/Charities/Other Organisations
2) Owners of Local Premises/Facilities
The EOI is a MANDATORY part of the application process – only those who submit an EOI and are eligible will be invited to attend a future Open Day/Assessment.
Click on the link below to download the Expression of Interest Forms and forward the completed EOI forms to Kirsty Pinkerton no later than 4pm Friday 17th February 2017.
Contact Details for Kirsty Pinkerton area as follows;
Email Address:
Postal Address: Armagh City Banbridge & Craigavon Borough Council, Craigavon Civic & Conference Centre, Environmental Services Dept, Lakeview Road, Craigavon, BT64 1AL.