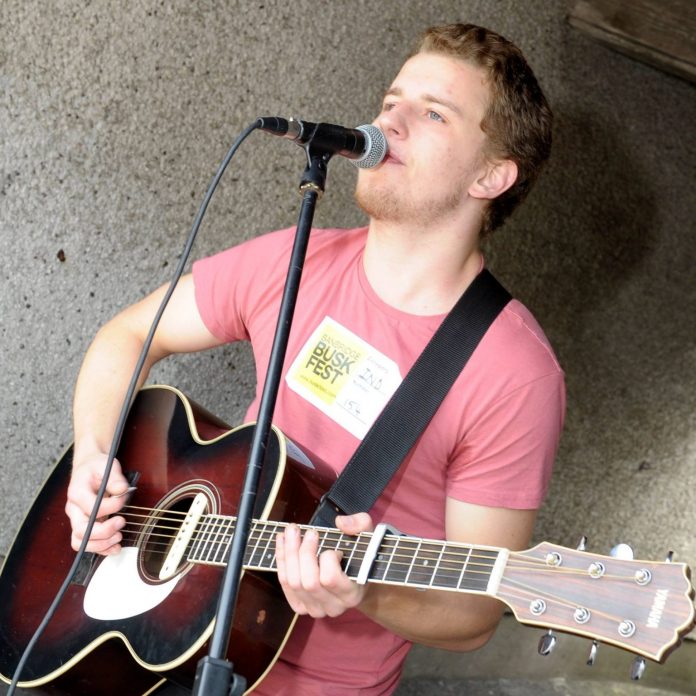 BuskFest takes to the streets of Banbridge town centre on Saturday 23 June 2018 with a fabulous day of music, entertainment and fun. Firmly established as one of Northern Ireland's leading platforms for showcasing local, national and international musical talent, BuskFest continues to help to launch musicians on a path into the public spotlight and onto a career in performing.
Since landing the Overall Winner award at BuskFest last year, singer and guitarist Weston Clendinning has gone from strength to strength with his musical career both as a solo performer and also with his band Hunkpapa who are currently wowing audiences across the UK and Ireland.
We caught up with Weston between shows and asked him a few questions to see what inspired him to first pick up a guitar and play and how BuskFest has helped him on his way.
How did you first get involved in performing/busking?
My decision to start busking was more out of necessity than a calculated career move. I'm originally from Armagh but last year I moved to Belfast and very quickly realised I needed to earn a few pounds to sustain myself, so I grabbed my guitar and hit the streets busking almost daily to make ends meet.
Who are your musical influences?
Where do you start I have so many and quite eclectic tastes but I would say my main influences would be Red Hot Chilli Peppers, U2, Bon Iver, Kings of Leon, and I love the work of film composer Hans Zimmer.
Is it important for a performer to write their own material?
I would say it is more important for a performer to be happy with what they are playing, whether that be their own material or not. I would however encourage any musician to develop their ability at writing music as it can be a very fulfilling and enjoyable process.
How has winning Buskfest helped with your musical career?
The main thing about winning BuskFest was giving me the confidence to take the leap into making a career in music. The prize money also allowed me to buy a quality new guitar and amp, which was nice!
What's next for Weston Clendinning?
Hunkpapa, my band! You can check us out at BuskFest, we'll be playing on stage in Solitude Park as part of the awards ceremony. 
What advice do you have for anyone entering buskfest?
Strive for excellence, be unique and  always love what you're playing!
If you fancy following in Weston's footsteps why not sign up for BuskFest 2018 to be in with a chance of winning a share of the £3000 prize pot. Participants can compete in a number of categories, including best individual, best band, best junior, best performance, and the 'Spirit of BuskFest' prize, sponsored by The Boulevard.
For further information and to register go to www.buskfest.com or find us on Facebook at www.facebook.com/buskfest. Online registration will remain open until 2pm on Friday 22 June 2018. Registration in person will also take place on Saturday 23 June from 9.30am – 11.30am in the Old Town Hall, Scarva Street, Banbridge.