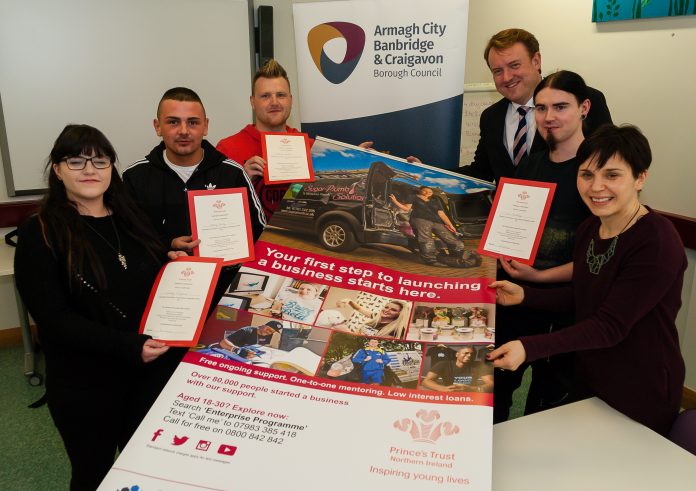 Four young people from Armagh City, Banbridge and Craigavon Borough were put through their paces on the Explore Enterprise Programme.
Facilitated by Prince's Trust, the programme focusses on developing young people's skills and knowledge while exploring and nurturing their business ideas. The four young people from the borough were commended at Portadown Library for having successfully completed the first stage of the programme.
No mean feat, as over the course of four days the young people delved into the business theories including self-employment vs employment, personal finance, sales, marketing, HMRC, financial forecasting, business planning and legal structures. The completion of this stage is sure to act a strong foundation as the young people move through the whole programme.
On presenting the young people with their certificates, Chair of the Economic Development and Regeneration Committee of Armagh City, Banbridge and Craigavon Borough, Councillor Colin McCusker, said:
"Congratulations to the Explore Enterprise programme participants on completing the four day intensive course and thanks to the Prince's Trust NI for delivering this worthwhile and essential programme in Portadown Library. This enterprise programme gives our young people an opportunity to get a focused introduction to entrepreneurship and business start-up.
It is due to enterprise-based initiatives such as Explore Enterprise that the fledging entrepreneurs and prospective business owners of today are mentored to understand and develop core business skills, so that we can build the entrepreneurs of tomorrow. Council is fully supportive of such initiatives, as improving the skills of young people fits in with our priority of growing our economy."
Orla Major, Public Sector Partnerships Manager at The Prince's Trust added:
"Young people have skills and talent that are vital to the economy and, in the past year alone, The Trust has engaged with over 8,600 young people looking to solve their own unemployment via our Enterprise programme. All too often, young people have difficulties to overcome but given the right support – such as our low interest loans, business mentors and ongoing advice – we can support young people to succeed and thrive in their business."
The Prince's Trust Explore Enterprise Programme is funded by the Department for the Economy through the European Social Fund and offers business training and potential financial and mentoring support or can help to secure goals in self-employment, employment, education or training.
For more information on the programme and the Prince's Trust contact Roxanne Denver: / 07714 490855.