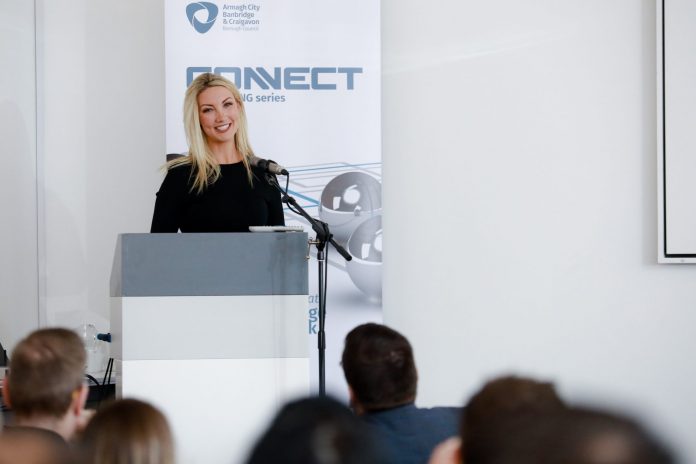 Local business across the borough of Armagh City, Banbridge and Craigavon boosted by free business breakfast series.
Hosted by Armagh City, Banbridge and Craigavon Borough Council, the Connect Networking Series featured three business breakfast events and brought together a total of 180 local businesses to connect, knowledge share and build their networks.
The thought-provoking and engaging events took place from September to November across the borough and saw key business issues and concerns come to the fore.
The series began on a highly relevant tone, with award-winning digital marketing expert Niamh Taylor from Digital Twenty Four highlighting effective techniques to enhance the success of LinkedIn to drive business growth. While one of Northern Ireland's most decorated athletes, Dr Michael McKillop headed up the second event in October. The inspirational and motivational speaker shared the story of his athletic career and demonstrated that there is no hurdle or challenge big enough to stop you from achieving your goals or dreams.
Delighted with the success of the series, Lord Mayor of Armagh City, Banbridge and Craigavon, Councillor Mealla Campbell said,
"It was great to see so many of our local businesses get involved in this year's Connect Networking Series. Once again, the series saw diverse and inspirational speakers take to the stage to examine relevant issues facing the business community today in a stimulating and engaging manner. Proving to be a vital business support, the events not only helped build knowledge but also helped foster and strengthen working relationships."
The series concluded this month with Dr Leah Totton – the first female winner of The Apprentice – and her captivating story of overcoming stereotypes to achieve a successful cosmetic business that is continuing to thrive.
Chair of the Economic Development and Regeneration Committee, Alderman Stephen Moutray said,
"With expert guest speakers and opportunities for knowledge sharing and networking, the Connect Network Series is an invaluable business resource helping equip local companies with the right and relevant skills to do business in the twenty-first century."
With plans to continue the series, you can find out more about the programme and upcoming business events here https://www.armaghbanbridgecraigavon.gov.uk/business/business-events/ or contact the Economic Development team at Armagh City, Banbridge and Craigavon Borough Council on 0300 0300 900.