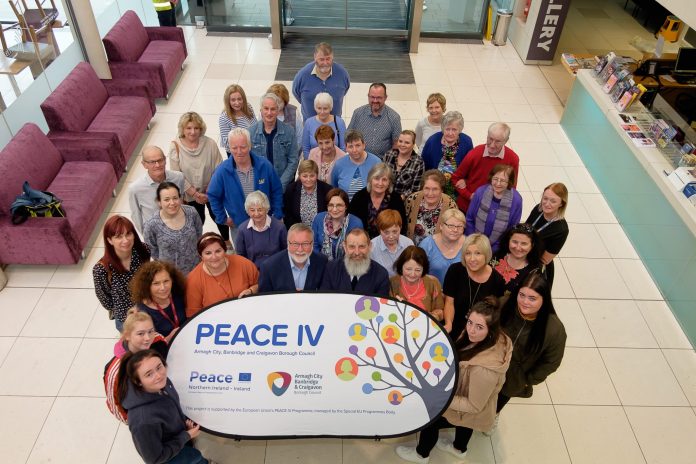 Over 30 people came together to engage, connect and to do something a little bit different at a creative writing course, held recently at the Market Place Theatre & Arts Centre.
The event, which was led by novelist, journalist and broadcaster Ian Sansom, celebrated the conclusion of the 'Building Positive Relations' project.
The project is funded by the PEACE IV programme, a cross-border initiative, financed through the European Union and managed by the Special EU Programmes Body (SEUPB). It has been designed to support peace and reconciliation in Northern Ireland and the Border Region of Ireland. In addition to supporting peace and reconciliation, the programme also contributes to the promotion of social and economic stability, in particular through actions to promote cohesion between communities.
Over the course of six weeks, the project saw local individuals from a variety of backgrounds, faiths, cultures, religions, ages and genders; share stories and explore topics such as growing up, childhood games, community and diversity.
The project ran in partnership with The John Hewitt Society, which promotes literature, arts and culture inspired by the ideals and ideas of the poet John Hewitt. It built upon the Society's 'Once Alien Here' initiative and aimed to develop local confidence and creativity; encourage local people to explore and understand the culture of their own community and that of others and to address issues of diversity.
It sought to promote positive relations and mutual understanding; contribute to reduced levels of prejudice, hatred and intolerance; develop a sense of civic pride among participants and help develop good relations within communities.
Through the Peace IV Programme, Armagh City, Banbridge and Craigavon Borough Council is supporting a number of projects, initiatives and events across three themes, 'Children and Young People', 'Shared Spaces and Services', and 'Building Positive Relations' as means to develop and promote community relations, respect, diversity, active citizenship and working to improve people's quality of life.
Match-funding for this project has been provided by the Executive Office in Northern Ireland and the Department of Rural and Community Development in Ireland.
To learn more about the PEACE IV Programme and upcoming events, please visit www.armaghbanbridgecraigavon.gov.uk/resident/peace-iv