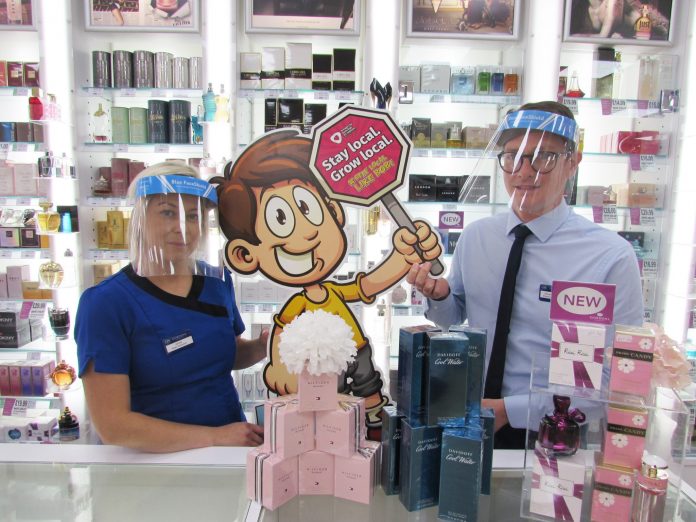 Since first setting up shop as a single pharmacy in 1980 by brothers Neil and Robert Gordon, Gordons Chemists has become firmly established as Northern Ireland's largest independently owned pharmacy, health and beauty chain and they are now delighted to get involved with Armagh City, Banbridge and Craigavon Borough Council's Boost our Borough campaign.
Neil and Robert's commitment for providing the community with a friendly, efficient and highly professional service enabled them to expand their business to currently over 60 pharmacies on the high street and shopping centres including stores in Armagh, Lurgan, Portadown, Rathfriland and Banbridge, where the company head office is also based.
With the outbreak of Covid-19, whilst the country went into lockdown, Gordons Chemists faced the challenge of remaining open, playing a crucial role in providing community pharmaceutical care. Due to an unprecedented increase in the demand of prescriptions and medications the pharmacy dispensing teams had to adapt to quickly enlisting the support from the Community Development and Health Network and various community volunteer groups to assist with the deliveries of essential medications.
Due to social distancing measures certain services had to be restricted, however those that were able to be carried out were provided in a way that ensured safety for customers and staff alike.  Screens were placed in all stores along with sanitising stations and the implementation of one way systems and floor stickers.  All staff were provided with the relevant PPE and enhanced strict cleaning schedules put in place with opening hours adjusted to ensure staff had dedicated time to clean and sanitise.
As lockdown continued the company's online store www.gordonsdirect.com saw a huge increase in orders however staff worked hard to ensure everyday essential products were readily available. Many staff put in extra hours going over and beyond the call of duty to ensure their customers received the exceptional service and support the company has become known for, even in these difficult times.
John Clark, General Manager for Gordons Chemists spoke of their involvement with the council's Boost our Borough campaign. "We felt it was important to support an initiative that was encouraging local communities to support local businesses.  We have seven stores in the ABC council area, all of which play a vital role in the community, so it was good way for us to play our part and show our appreciation to our customers by giving something back to them for supporting us. We are delighted to offer a 10% discount on our in-store single fragrances (with the exception of the Clarins range)."
"Covid-19 demonstrated how local communities are able to pull together and support each other – especially when we need it most.  This has resulted in a significant change in consumer habits.  These are challenging times for our local high streets and we need the support from our local communities more than ever to help boost the economy.  Shopping local helps local businesses survive and helps save local jobs."
Details on Gordons Chemists including where to locate your nearest store can be found at www.facebook.com/gordonschemists
For further information on the Boost our Borough campaign including business sign up and to see a list of all participating businesses go to www.armaghbanbridgecraigavon.gov.uk/bob/
#StayLocalLikeBob