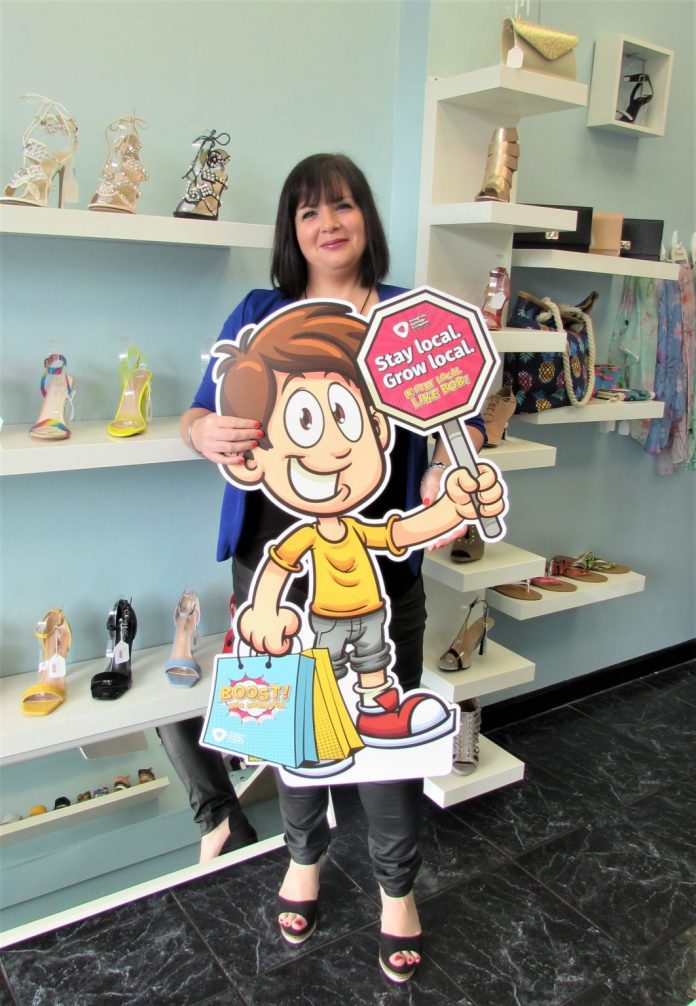 Bob was stepping out in style when he paid a visit to Just Because Shoes in Banbridge as part of Armagh City, Banbridge and Craigavon Borough Council's campaign to help local independent businesses and Boost our Borough.
Run by proprietor, Claire Ucar, Just Because Shoes is the latest in boutique retailers to open up on our high streets and offers a wide selection of fabulous fashionable footwear at affordable prices.
A self-confessed shoe obsessive, Claire's vision was to create a quality shoe shop offering stylish designs but at a sensible cost. "I have always been a great lover of shoes but found as I got older with more financial commitments I just couldn't justify spending the money on shoes like I use to. I realised there would be a lot of other women who would be thinking the same so I put my plan into action. The name Just Because Shoes came about as my husband would ask me why did you buy those shoes, and I would say, just because… "
Unfortunately, the new venture's highly anticipated opening did not go quite to plan due to the outbreak of Covid-19. A grand opening was scheduled for 21 March which coincided with lockdown measures coming into force.
However, Claire was determined not to be outdone by lockdown and used the opportunity to establish her online presence with a state of the art website and social media platforms introducing her new business to customers in a virtually capacity.
As lockdown measures eased, Just Because Shoes were able to open its doors to the public on Saturday 13 June with safety measures in place including perspex screens and a hand sanitizing station at the entrance.
When asked her reasons for getting involved with the council's Boost our Borough campaign Claire said, "I think its super important for people to shop locally to keep our towns and villages alive and growing. I also think that the social aspect for people shopping locally is essential, just getting to chat to people is great and if people leave with a smile as well as a purchase then what more can you ask for."
Just Because Shoes are open Tuesday – Saturday from 10am to 5pm daily located at 8a Bridge Street Banbridge BT32 3JS. Find them on Facebook at www.facebook.com/justbecauseshoesbanbridge or on the web at justbecauseshoesbanbridge.com
For further information on the Boost our Borough campaign, for business sign up and to see a list of all participating businesses go to www.armaghbanbridgecraigavon.gov.uk/bob/
#StayLocalLikeBob