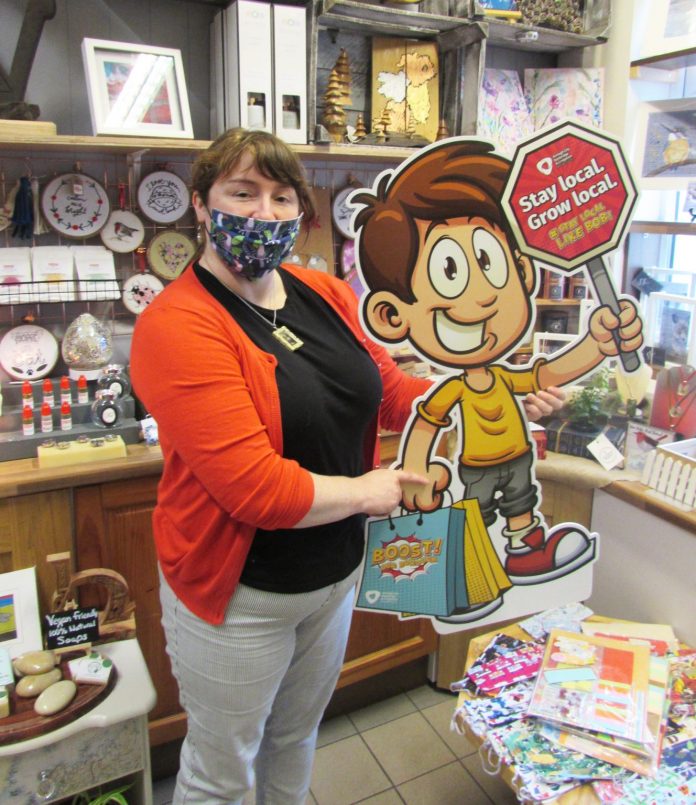 As Armagh City, Banbridge and Craigavon Borough Council's Boost our Borough campaign comes to a close Bob made one last visit to a local business to see how the initiative has helped them and others cope with adapting to the 'new normal'.
Danann Crafts, located in William Street, Lurgan, was the brainchild of Sinead McMahon who first established an online business in October 2013 and retail store in December 2014 after visiting the Salamanca Arts centre in Tasmania and being inspired by the host of local art, craft, books and cafes the facility provided to the local community.
On her return Sinead and her husband looked at how they could develop a similar venture to provide Lurgan with an outlet to help promote local creative industries, producing a platform for makers, artists and writers to promote their craft.
Danaan Crafts, which currently employs four people, has now become established as a leading supporter of the arts providing a crafted gift store, art gallery, mini tea room and creative workshop space that is inclusive for everyone and for all ages.
However with the outbreak of Covid-19 the business, like so many other local enterprises, was badly affected by the result of lockdown. Sinead said, "It's been a hard journey for us, we had to try to evolve our business since we lost many of our orders, craft workshops with local community groups plus social events and kid's parties in-store. Initially we really struggled to see how we could re-open or make our business somewhere people could come back to and enjoy. However we were determined to work within the guidelines and get our business up and running."
"Our first priority was making sure our staff would feel secure with in their work environment, each staff member or volunteer were provided with washable masks and face shields along with hand sanitizers so they feel protected at all time. The shop was deep cleaned and all our customers must wear masks with hand sanitizing facilities available as you enter and leave the shop with each workshop room thoroughly cleaned after use."
Speaking of her involvement with the Boost our Borough campaign Sinead added, "We love the idea of the council promoting our town and encourage people to enjoy what's on their doorstep. When you shop local you're supporting your own community. I firmly believe that if the local community supports local businesses then those business will give back to the local community.
Shopping at Danann Crafts really is supporting local by giving our amazing crafts people a place to sell from directly. We also buy craft supplies with our profits to give to local good causes including nurseries, community groups, vulnerable people groups and housing charities We appreciate that charity starts at home."
"We welcome everyone to call into our 'wee shap' in William Street and enjoy some quiet time or to get creative with family or friends."
Danann Crafts is located at 52 William St, Lurgan, BT66 6JB. For further information, including contact details and opening hours go to www.facebook.com/dananncrafts/
For further information on the Boost our Borough campaign and to see a list of all participating businesses go to www.armaghbanbridgecraigavon.gov.uk/bob/
#StayLocalLikeBob