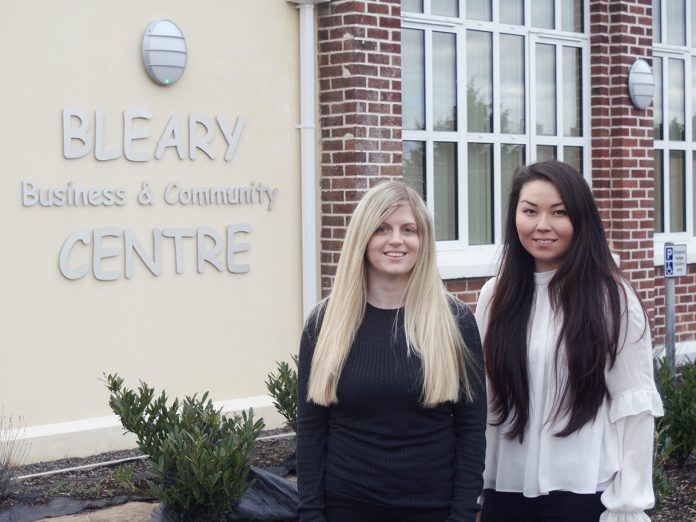 Studyseed a new social enterprise offering personal and high quality educational support is the latest start-up to enter the doors of Bleary Business and Community Centre and set up shop.
Formed in 2013 and converted to a social enterprise in 2016, Studyseed is the brain child of business partners and childhood friends, Siofra Frost and Jayne Hamilton. Studyseed believe that education should be afforded to everyone as a right and not a luxury by delivering affordable tuition services and educational resources right across Northern Ireland.
Both in the final year of their PhDs at Queen's University Belfast, Siofra and Jayne have 20 years tutoring experience between them and strongly believe in supporting the educational development of people of all ages. Studyseed offers a wide range of tuition services including one-to-one tuition in all subjects from Key Stage 1 to undergraduate level and group sessions covering Maths, English, AQE and GL transfer test, reading recovery and creative writing, to name a few.
Always striving to support education services and meet the needs of the local community Studyseed will be hosting an open night on Thursday 30 March 7.00 – 9.00pm at the Centre.
Studyseed, commented,
"We are really pleased to call Bleary Business and Community Centre our new home. At Studyseed we believe education should be accessible to everyone so having a wide reach is vital to us and with its central location to Lurgan, Portadown, Craigavon and Banbridge the Centre was ideal for us. As well as their modern facilities and the ability to connect and collaborate with other enterprises it was the perfect match for us."
Managed by the Economic Development Department at Armagh City, Banbridge and Craigavon Borough Council, the Centre provides shared office space for small businesses, provision for community activity, workshops, events and training and plays a key role in helping to grow the economy, which is the Borough's number one priority.
Catherine McNeill, Bleary Business and Community Centre Manager commented,
"Office, desk and workshop space is available for rent at the Centre in a series of flexible options from permanent full-time to hot desks and there are packages to suit each individual business needs. The Centre boasts high end facilities such as free high speed broadband and a 60-inch smart screen TV, which makes it the ideal venue to host presentations, training and networking events. Businesses based in the Centre can benefit from the synergies of working with and alongside other entrepreneurs by sharing contacts, boosting attendance at launches or opening events. Allowing each company to grow and upskill in a competitive market."
Studyseed's first group tuition programme starts this Easter with GCSE revision courses. They will be offering sessions in GCSE Maths (Foundation and Higher Tier), GCSE English Language and GCSE CCEA Poetry Anthology Monday – Friday, running from 10-14 April and 17-21 April between 10.00am-1.00pm and 2.00pm-5.00pm. If you are interested in signing up to these classes, please contact Studyseed via , or call them on the number below.
To find out more Studyseed and their programmes, check out their website www.studyseed.co.uk or Facebook page, email or call 07599 804 844. For more information about Bleary BCC, contact Catherine McNeill on 028 3831 2433 or email