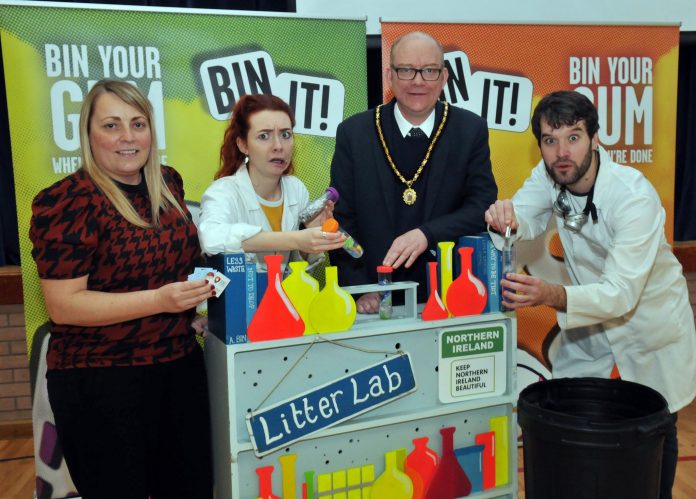 Armagh City, Banbridge and Craigavon Borough Council are once again hosting the interactive 'Bin It!' Wrigley's roadshow in local secondary schools across the borough.
The ever popular roadshow is a fantastic educational tool, performed live in the chosen schools and designed to address the environmental and social impact of unnecessary littering. The performance aims to help students understand why it is important to take personal responsibility for disposal of their litter. Both entertaining and educational, the live performance tackles the challenging problems of litter in the most sustainable way – by changing behaviours.
Welcoming the return of the roadshow, the Deputy Lord Mayor of Armagh City, Banbridge and Craigavon, Councillor Paul Duffy, comments: "Council is delighted to once again host the innovative 'Bin It!' roadshow in schools across the Borough. The roadshow will go a long way in raising awareness of the environmental costs and social issues surrounding discarded litter – particularly chewing gum in our borough. The performance aims to showcase the effect of littering on local areas and the environment in an engaging and entertaining way – we hope our pupils really enjoy it!"
The roadshow is designed for 11-13 year olds and can host up to 200 students at one time. The performance encourages student cooperation, interest and participation with the main goal of changing behaviour and encouraging pupils to be more socially and environmentally aware about litter and its impact.
Local schools taking part include Dromore High School, New-Bridge Integrated College, Loughbrickland, St. Ronan's College, Lurgan, Lismore Comprehensive, Craigavon, Clounagh Junior High School and St. John the Baptist College, Portadown, St Catherine's College, Armagh and the City of Armagh High School.
Julie Lovell, Public Affairs Senior Manager, Mars Wrigley Confectionery UK, said: "Bin it! has been an incredibly successful programme to date and we are delighted to have reached over 160,000 pupils across the UK since it began in 2006. We hope that its success will continue to grow as we reach out to even more young people, reinforcing our messages around littering and urging children to take pride in and look after their local communities and environments."
For further information and to learn more about the roadshow please contact the Environmental Education Team at Armagh City, Banbridge and Craigavon Borough Council on 0300 0300 900 and ask for Pamela Hanna (Craigavon), Kate Campbell (Armagh) or Tracy Fitzpatrick/Caroline Magill (Banbridge).