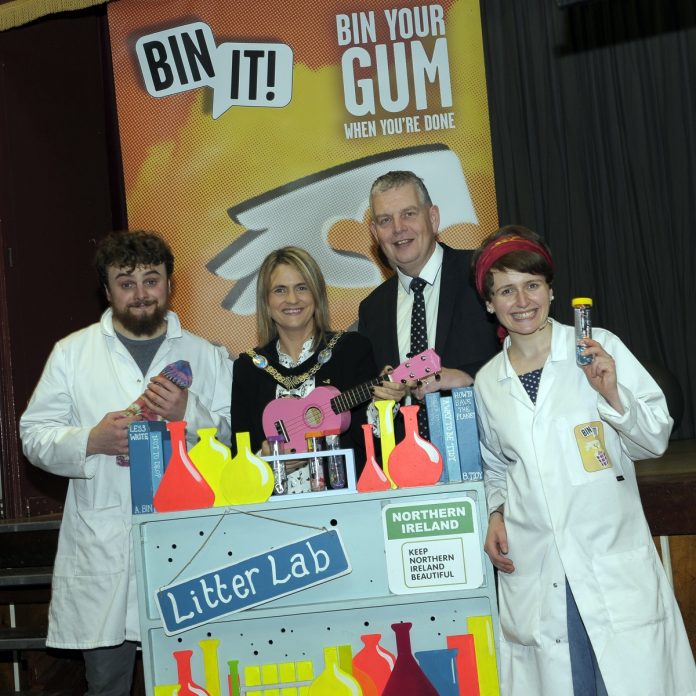 Armagh City, Banbridge and Craigavon Borough Council once again hosted the award winning 'Bin It!' roadshow in local secondary schools across the borough recently.
Schools who took part in the 2019 programme included Dromore High School, St. Patrick's College Banbridge, St. Ronans College Lurgan plus St. Patrick's Grammar and Markethill High School in Armagh.
The interactive show is designed to help students understand the importance of taking personal responsibility for correct litter disposal.  Bin It! raises awareness of the environmental costs and social issues surrounding discarded litter, particularly chewing gum.
Lord Mayor of Armagh City, Banbridge and Craigavon, Councillor Mealla Campbell welcomed the return of the roadshow commenting: "We are delighted to have once again hosted the roadshow in schools right across the Borough, helping to reinforce Council's commitment to cleaner neighbourhoods. We hope the pupils really enjoyed the show and take on board the important messages contained within the performance."
The roadshow is an entertaining and educational live performance that aims to tackle the challenging problems about litter in the most sustainable way, by changing behaviours.  It is specially designed for 11-13 year olds and can host up to 200 students at one time.  It is an entertaining way in which to deliver the anti-littering message to our adults of tomorrow.
For further information and to learn more about the roadshow please contact the Environmental Education Team at Armagh City, Banbridge and Craigavon Borough Council on 0300 0300 900 – Pamela Hanna (Craigavon), Kate Campbell (Armagh) or Tracy Fitzpatrick/Caroline Magill (Banbridge).