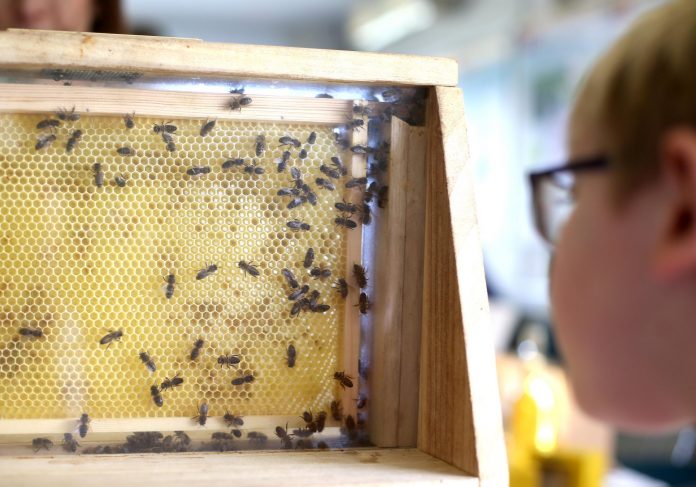 Adults and children alike can enjoy a wide range of exciting activities this summer at Lough Neagh Discovery Centre (LNDC), Maghery and Lurgan Park – with something to suit everyone!
Three of the events tie in with the Living Lough Exhibition at LNDC, which runs throughout July and August and explores everything from the plants and animals to the biodiversity and even vikings, each event will highlight specific topics.
First up is Basket Making taken by expert Paul Carville. This course will show you how to use a variety of materials to make a basket which you can then take home.
The course costs £25 plus £10 for materials or you can pop in for a day for £8. Dates, times and venues are:
Wednesday 1st August, 10am – 1pm: LNDC
The Conservation Team is also working with renowned group 'Theatre Without Walls' which will focus on the importance of pollinators (an animal that moves pollen from flower to flower) through drama. These fascinating sessions use drama to interpret, explore and share the world around us and promises to be a fantastic project for children aged eight to 12 years old. The price is £5 per day and booking is essential.
The dates and times are:
Wednesday 27th July from 11am – 1pm and 2pm – 4pm
Thursday 28th July from 11am – 1pm and 2pm – 4pm
Wednesday 1st August from 11am – 1pm and 2pm – 4pm
Thursday 2nd August from 11am – 1pm and 2pm – 4pm
Finally, don't miss out on 'Rumbling Bumbles' – a short talk on bumble bees by Dr Elaine O'Mahoney and their importance in pollinating fruit and vegetables and what we can do to help make the life of a bumble bee easier. If the weather stays dry you will then go on a Bee Safari, or if the rain decides to appear, you will be able to enjoy an art workshop to show the importance of the bee in pollinating apples.
This event will take place on Friday 29th July from 11am to 1pm, is free of charge and suitable for all ages.
For creative people in the borough, The Doodle Den is perfect for some summer fun! Taking place every Saturday from 28th July through to 25th August at Artspace, Oxford Island, kids and grown-ups of all ages can come along and create their own artwork to take home with them – with a little help and guidance from our team of artists! Drop in anytime between 11am and 3pm!
For those of you interested in the geology of the area, don't miss the Maghery Geology Walk at Maghery Country Park with Dr Kristen Lemon on Thursday 23rd August at 7pm. This free event will take you on a short walk highlighting the geology of the Lough Neagh area as well as the various legends associated with the formation of the lough. Make sure you wear suitable clothing and footwear and come along and enjoy!
Finally, Lurgan Park is the place to be if you want to learn more about bats with a fun walk and talk! Taking place on Friday 24th August from 8pm to 10.30pm you will learn some fascinating facts about bats before heading into the park to spot them flying! The cost is £4 per adult and £2 concession. Call Lurgan Park on 028 3832 3795 to book.
For more information on all events (except the Bat Walk at Lurgan Park) please call 028 3832 2205.