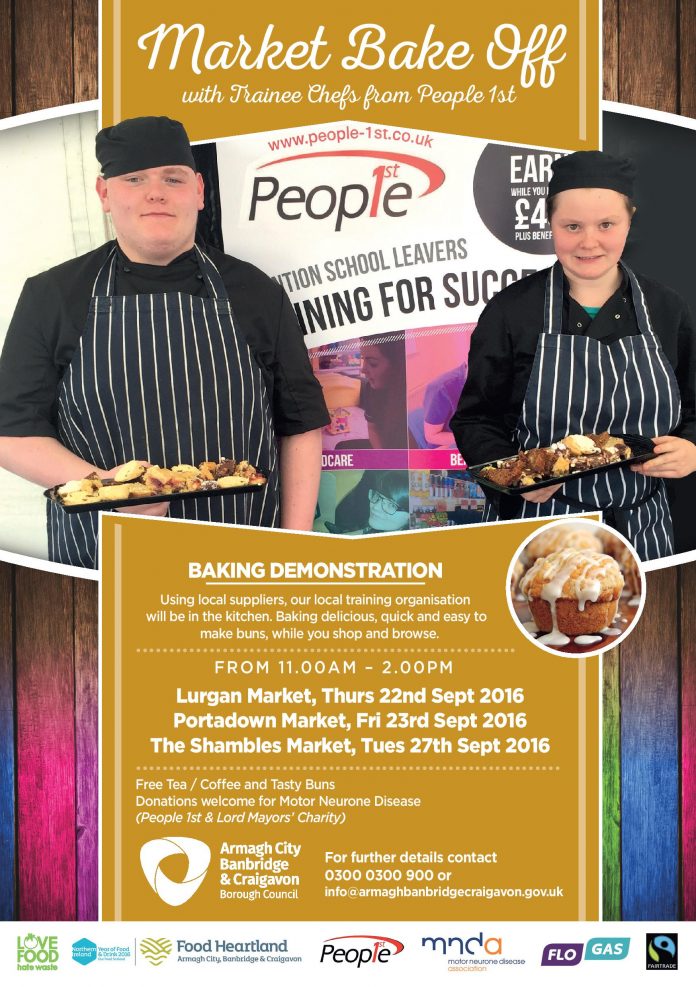 It's baking heaven at Lurgan Market this week!
The Market has teamed up with local suppliers and Award-Winning training organisation People 1st to bring a bit of flavour to the Market. People 1st Trainee Chefs under the supervision of their lecturer will be baking some tempting, tasty and scrumptious treats while you shop, shop, shop!
Taking place on Thursday 22nd September from 11.00am – 2.00pm, students will have their aprons, wooden spoons and mixing bowls at the ready, demonstrating how to make a wide range of glorious and irresistible goodies – with free samples for everyone to try!
People 1st will also be providing free tea and coffee and offering handy hints and tips on how to cook these delectable delicacies and shoppers will have the opportunity to ask questions about baking.
This morning of fabulous food has been organised by Council as part of the Northern Ireland Year of Food & Drink 2016. With September's theme showcasing bread and baking, it's the perfect chance to try meet up with your friends over a nice cuppa with a tasty treat!
Donations are welcome for Motor Neurone Disease (Lord Mayors Charity & People 1st.
For further information contact Kirsty Pinkerton on 028 3831 2525 or email