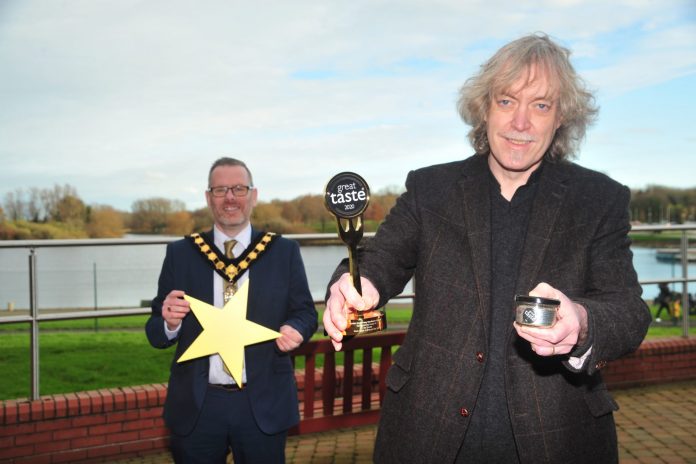 Racking up an impressive 53 Great Taste and Irish Food Awards as well as the Golden Fork Honour to boot, Armagh City, Banbridge and Craigavon Borough's award-winning food and drink produce is the perfect addition to any Christmas gift, hamper or even a tasty treat for you to enjoy – go on you deserve it!
Scooping an amazing 40 Great Taste Stars, 13 Irish Food Awards and the illustrious Golden Fork Award, the prized produce ranged from mouthwatering breads and biscuits, indulgent cheeses, chutneys and scrumptious spreads; to decadent desserts, refreshing beverages, premium meat and vegan-friendly meals; as well as tasty snacks and superior condiments.
Competing against thousands of entrants across the UK and Ireland, 17 of the borough's finest producers and artisans came out on top at the prestigious award ceremonies. Local Craigavon business Craic Foods – producers of high quality freeze-dried fruits, vegetables and sauces – had a standout performance this year, as they not only won the Chef's Larder accolade at the Irish Food Awards and nine Great Taste Stars but they were also declared overall winners of the coveted Golden Fork Award for their Black Garlic & Porcini Sea Salt.
Other champions included Holmes Bakery who won Best in County and Gold honours at the Irish Food Awards for their handcrafted and incredibly moreish Flakemeal Biscuits and Portadown's Yellow Door Deli who walked away with three Great Taste Stars. Armagh Cider Company bagged two Stars, one Bronze and three Silver Irish Food Awards, while Long Meadow Cider collected three Great Taste Stars and a Bronze honour.
First-time Great Taste Award winners, McCracken's Real Ale picked up one Star for their Irish Pale Ale, while Irwin's Bakery, Tayto and Perfect Desserts won two Stars each and Kestrel Foods picked up one Star. Harnett's Oils collected one Bronze Irish Food Award and Avondale Foods won one Gold and Bronze award. Armagh's Burren Balsamics won an incredible seven Great Taste Stars and one Bronze Irish Food Award, while Digby's Bar & Restaurant picked up one Star and Ballylisk of Armagh secured one Silver Irish Food Award. Dromore's Little Bakehouse bagged an impressive five Great Taste Stars and Quail's Fine Foods won two Stars.
Lord Mayor of Armagh City, Banbridge and Craigavon, Councillor Kevin Savage congratulated the winners,
"Very well done to all the Great Taste and Irish Food Award winners! To have 13 Irish Food Awards, the Golden Fork honour and 40 Great Taste Stars awarded to produce in this area is truly great news for the borough and shows how deserving we are to be known as the Food Heartland of the region.
"In what has been an extremely difficult and challenging year, our local food and drink producers have worked tirelessly to feed the nation during the pandemic, all while continuing to create new and delicious products – so it is only right we take the time to acknowledge and recognise their resilience, determination and innovation.
"With so much decorated, delicious and distinctive food and drink right on our doorstep, I would encourage everyone to support the borough's talented, hard-working and creative producers by shopping local this Christmas."
The Great Taste Awards and Irish Food Awards ceremonies took place virtually this year due to the current pandemic and celebrated the very best in local food and drink. Their rigorous and meticulous assessment processes saw months of remote and socially-distanced judging sessions to determine the overall winners.
View all this year's Great Taste and Irish Food Award winners https://gff.co.uk/awards/great-taste-awards/ and https://www.irishfoodawards.com/the-winners/.
You can check out a specially curated range of Christmas gift ideas and hampers from many of the borough's chefs and producers here.