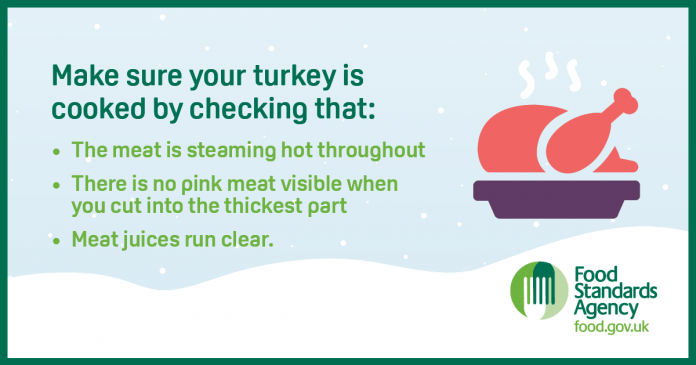 There is an estimated one million cases of food poisoning in the UK every year, and without attention to food hygiene, this doesn't stop during the festive season.
To save your loved ones from a nasty bout of food poisoning over the holidays, Armagh City, Banbridge and Craigavon Borough Council is supporting the Food Standards Agency in their campaign on food safety this Christmas.
There are a number of tips to take on board when cooking that all-important turkey with all the trimmings – so why not take note and make sure you have a happy, healthy feast!
When Christmas food shopping, take sufficient bags with you so that you can separate out raw and ready-to-eat foods to avoid cross-contamination.
Check the guidance on your turkey to ensure you have enough time to fully defrost it – it could take as much as four days.
Don't wash raw turkey; it just splashes germs onto your hands, clothes, utensils and worktops.
To work out the cooking time for your bird, check the instructions on the packaging. Check that: the meat is steaming hot throughout; there is no pink meat visible when you cut into the thickest part and meat juices run clear.
Whether you cooked your turkey from frozen or fresh, your turkey leftovers can be used to make a new meal (such as a turkey curry). This new meal can then be frozen, but make sure you only reheat it once.
"Cooking a Christmas roast for a large gathering can be a challenge, and it is important to be mindful that the turkey – or other meat of the meal – is stored, defrosted and cooked correctly," commented the Councillor Keith Haughian, Chair of Environmental Services Committee.
"We all also love the leftovers from Christmas day but must remember that the food needs to be reheated and eaten within specific timeframes in order to avoid food poisoning. This is why this council is supporting the Food Standards Agency, to help you to relieve some of the stress of preparing your Christmas meal and to keep your family safe during the festive period."
Kathryn Baker, Head of Local Authority, Policy and Delivery at the Food Standards Agency, said: "The four Cs of food hygiene: Chilling, Cleaning, Cooking and avoiding Cross-contamination are important throughout the year, but especially at Christmas.
"In the flurry of preparing the Christmas meal, it's important to remember to plan ahead and allow plenty of time. Remember that an average-sized turkey can take four days to fully thaw in the fridge, and it is vital to thoroughly cook a turkey so that the meat is steaming hot, there is no pink meat visible, and that the meat juices run clear.
For more information visit: www.food.gov.uk/seasons-eatings or follow @foodgov #SeasonsEatings on Twitter for tips and advice throughout the festive period.