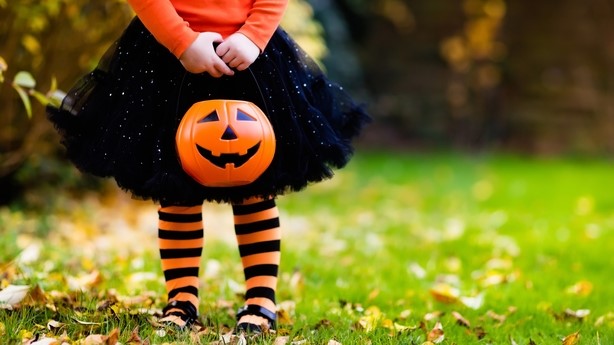 As Halloween approaches, Armagh City, Banbridge and Craigavon Borough Council is offering safety advice to residents when buying fancy dress costumes.
Whether for a specific occasion like Halloween, or simply playing around the house, young children love to dress up! And we all want to join in on the festivities but with fancy dress clothing recently associated with a number of accidents, it has the potential to present a serious fire risk.
Dress up clothing can burn rapidly when accidentally ignited by contact with an open flame, such as a candle or open fire, which can cause serious injury, burns and potentially death. Children are especially vulnerable when they are playing without adult supervision.
Reminding residents to be mindful when buying fancy dress costumes this Halloween, Lord Mayor of Armagh City, Banbridge and Craigavon, Councillor Mealla Campbell said,
"In the lead up to the exciting and fun festivities this Halloween, I would encourage parents and guardians to be vigilant and aware of the potential risks with fancy dress costumes and fire or naked flames. I would urge everyone to check out our top tips to make this Halloween a safe and fun one."
Here are some tips to note in the lead up to the Halloween celebrations:
Check that any children's costume you buy carries a CE mark on the label.
If wearing masks, wigs or beards ensure these do not cover children's eyes, noses or mouths as they can make it hard to see and breathe.
Try non-toxic face paint or make up instead and remove this before bedtime to prevent possible skin and eye irritation.
Costumes should fit properly to prevent trips and falls.
Avoid items such as oversized shoes, high heels long dresses and capes.
Decorate costumes and treat bags with reflective tape or stickers.
Make or buy costumes in light coloured material.
Wear woollen tights or heavy trousers e.g. jeans and a woollen jumper under the costume.
Avoid naked flames or candles, use torches, glow sticks or battery-operated candles to help them see and to be seen by drivers.
Be sure they know how to 'stop, drop and roll' if their clothing catches fire.
Any props such as wands or swords should be short and flexible.
When purchasing costumes online, it is also important to be mindful of counterfeit and fake goods. As counterfeit fancy dress clothing is not subjected to the same rigorous testing as genuine items it therefore poses a public safety risk to consumers. Risks could involve suffocation, poisoning from untested dyes and colourings and packaging of the clothing that does not meet safety standards.
Take note of this online shopping advice:
Trust your instincts, if an offer looks too good to be true, then it probably is. Legitimate items are rarely discounted, so do not rush and be fooled into believing you are getting a good deal.
Check the spelling and grammar on the website and of the web address, as often the people behind these sites will try to deceive you by slightly changing the spelling of a well-known brand or shop in the website address.
Look to see where the trader is based and whether they provide a postal address, just because the web address has 'UK' do not assume the seller is based in the UK. If there is no address supplied or there is just a PO Box or email, be wary.
Only deal with reputable sellers and only use sites you know or ones that have been recommended to you. If you have not bought from the seller before, do your research and check online reviews. People will often turn to forums and blogs to warn others of fake sites.
Ensure the website address begins 'https' at the payment stage, this indicates a secure payment.
Keep your computer security software and firewalls up-to-date.
Ask the trader if there is a returns policy or guarantee. Most rogue traders will not offer this.
Watch out for pop-ups appearing asking you to confirm your card details before you are on the payment stage. Never enter your PIN online.
For further information, advice or to report an unsafe costume, contact Environmental Health on 0300 0300 900 or email .