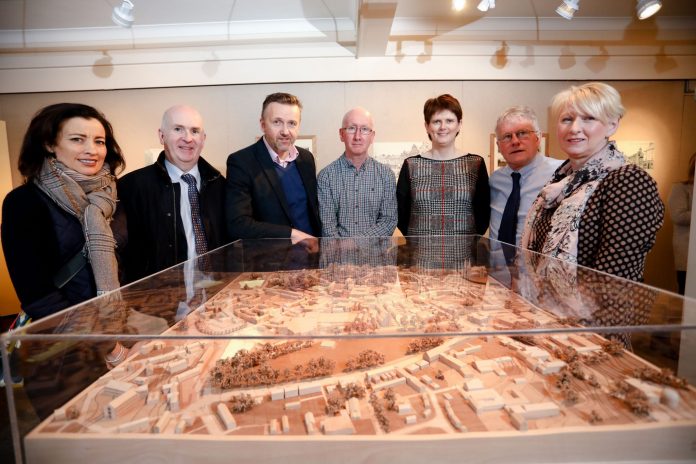 A step into the past…and a look to the future exhibition highlights the city's rich built heritage as part of a major townscape restoration
THE Armagh City Townscape Heritage postcard exhibition was officially opened to the public – "a step into the past and a look to the future" highlights Armagh's historic city centre through postcards of its rich built heritage.
In partnership with Armagh County Museum the exhibition showcases a selection of the buildings as part of the townscape heritage scheme as well as some of the museums extensive collection of postcards dating back to the early 1900's.  Take a step back in time to see Upper English St, Thomas St, College St, Market Square and Scotch Street nearly 120 years ago!  The exhibition is free and open to the public until 31st May 2019.
Keith Gilmore, Armagh Townscape Heritage Manager said, "This is an excellent opportunity to showcase this major investment and transformation project that will restore and enhance our city for future generations.  We want to inspire our local community to learn and develop the appreciation of built heritage so this is a brilliant way of highlighting the history of the buildings and the new proposed designs.
"We encourage everyone of all ages to come along to view the exhibition and the carefully-planned designs which will transform Armagh, making it an even more attractive place to live, work and visit."
A major investment of £6.3 million will transform the city centre – led by the Armagh City Townscape Heritage Partnership, with support from Armagh City, Banbridge and Craigavon Borough Council and the Heritage Lottery Fund, the five-year Armagh City Townscape Heritage project, will be directly geared towards repairing properties and bringing historic spaces back into sustainable use.
Key buildings in Armagh's protected conservation area, which includes Upper English Street, Scotch Street, Barrack Street and Russell Street, will now be redeveloped as part of the overall heritage-led regeneration project. Several existing businesses in the city will also directly benefit from the scheme.